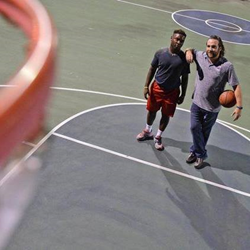 Through all these years he's always been a phone call away and never lets me down.
Fort Lauderdale, FL (PRWEB) March 07, 2017
Gateway High School Class of 2002 and Robert Morris University Class of 2005 graduate, Chad Van Horn has been honored by Big Brothers Big Sisters of Broward County, Florida and now is the Big Brother of the Year for the State of Florida. After losing his father at a young age his mother, Debra, raised Chad. Along with his mother, Chad cited having many positive role models and mentors which helped make him the man that he is today. One of his role models is his older brother, local business leader, Gary Van Horn.
The President and CEO of BBBS of Broward County said about Chad:
"Chad exemplifies the words Big Brother, and I am thrilled that now the entire State of Florida will join Broward County in what we already know, Chad is awesome, his caring and compassion for his little brother Desmond and the mission of this organization is stellar!" said Ana M. Cedeno President and CEO Big Brothers Big Sisters of Broward
After being unanimously picked as Big Brother for the State of Florida Chad is now on the national stage and is a finalist for National Big Brother of the Year. The relationship between Chad and Desmond has blossomed from being sons of strong single mothers. Big and Little have bonded over competitive sports, outdoor activities and Desmond working summers at Van Horn Law Group. Desmond said last year of his Big;
"The fact that Chad and I have been paired together for over three years means a lot to me, and I know that our relationship will continue as I grow older," Desmond says. "Through all these years he's always been a phone call away and never lets me down."
To be chosen for the national honor, a Big must have made a serious difference in the life of their Little. Big Brothers Big Sisters help make an impact in both of the Big and Little's lives. BBBS promote positive results in school, home life and creating a future of opportunities.
Big Brothers Big Sisters is a nationwide society that has made a difference in communities for over 100 years. The organization began by mentoring adolescents in the New York Childrens' Courts. BBBS help boys and girls living in adversity to overcome and achieve a better chance at opportunities otherwise unavailable. Mentoring can save lives by teaching youth that anything is possible with hard work and positive choices. With caring adults in their lives, BBBS believes that each child can not only survive, but thrive and achieve a rewarding adult life of their own.
Chad is proud to have been named to such an honor and to be involved with BBBS's mission as a volunteer and board member.
About Van Horn Law Group
Van Horn Law Group P.A. is a Fort Lauderdale-based law firm with practice areas in personal bankruptcy, corporate bankruptcy, student loan consolidation and litigation, estate planning/asset protection, LGBT estate planning/asset protection, foreclosure defense, corporate representation, debt consolidation, civil litigation, debt relief, and consumer law. Managing Partner Chad T. Van Horn is the founding partner of the firm and a South Florida business leader. Through a combination of dedicated philanthropy, spirited entrepreneurship and legal expertise, he applies his resources and networking to helping people. A Florida State Bar-certified attorney, Van Horn's many honors include the prestigious AV Preeminent ranking, the highest rating awarded to attorneys by Martindale-Hubbell. For additional information, Van Horn Law Group can be reached at (954) 765-3166, and the firm is located on the Internet at http://www.vanhornlawgroup.com.