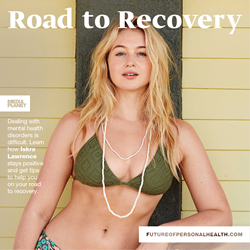 Approximately 1 in 5 adults in the U.S. - 438 million people - experience a mental illness in a given year.
New York, NY (PRWEB) March 01, 2017
Approximately 1 in 5 adults in the U.S.—43.8 million people—experience a mental illness in a given year. Eating disorders, anxiety, and depression are among the most prominent mental health disorders in America, commonly co-occurring with one another. Of these illnesses, eating disorders have the highest mortality rate of any mental health disorder—over 30 million men and women suffer from a given illness a year. Mediaplanet's Road to Recovery campaign aims to spread the message that with treatment, all of these mental health illnesses are beatable.
This being known, it has become crucial to educate the public and all those who are silently suffering alerting them to the severity of the illness and showing that recovery is possible. From focusing on the best parts of yourself in Iskra Lawrence's "Mirror Challenge" to educating the public about the Mental Health industry, "Road to Recovery" aims to provide the necessary tools and resources to beat your mental health disorder.
The print component of "Road to Recovery" is distributed within the March 1st regional circulation of USA Today, with a circulation of approximately 250,000 copies and an estimated readership of 750,000 within the New York, Los Angeles, D.C., Boston, and Phoenix markets. The digital component is distributed nationally, through a cast social media strategy, and across a network of top new sites and partner outlets. To explore the digital version of the campaign, click here.
This edition of "Road to Recovery" was made possible with the support of McLean Hospital, American Foundation for Suicide Prevention (AFSP), American Mental Health Counselors Association (AMHCA), Anxiety and Depression Association of America (ADAA), National Eating Disorders Association (NEDA), Alliance for Eating Disorders, Academy for Eating Disorders, Suicide Awareness Voices of Education (SAVE), Office of Women's Health, Skyland Trail, The Meadows, Aerie for American Eagle, and Her Campus.
About Mediaplanet 
Mediaplanet is the leading independent publisher of content marketing campaigns covering a variety of topics and industries such as Health, Education, Lifestyle, Business and Technology, and Corporate Social Responsibility. We turn consumer interest into action by providing readers with motivational editorial, pairing it with relevant advertisers and distributing it within top newspapers and online platforms around the world. Please visit http://www.mediaplanet.com for more on who we are and what we do.