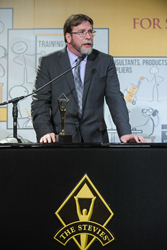 "We're proud to receive these awards which reinforce our reputation for, and commitment to, finding innovative solutions that drive engagement and revenue for our customers," Fred Kessler, CEO
BROOMFIELD, CO (PRWEB) March 01, 2017
Highlights:

Sales Partnerships received a Gold Stevie Award for Field Sales Team of the Year for the fifth consecutive year, more than any other company
Sales Partnerships was also awarded a Silver Stevie Award for Sales Outsourcing Provider of the Year
Two Bronze Stevie Awards were presented to Sales Partnerships for Best Use of Technology in Sales and for best Sales Operations
Five leaders from Sales Partnerships were given Silver and Bronze Stevie Awards for individual sales achievements.
Sales Partnerships, Inc., a leading provider of contract sales and sales outsourcing services for Fortune 500 companies, was presented with one Gold, five Silvers, and three Bronze Stevie® Awards at the eleventh annual Stevie Awards for Sales & Customer Service ceremony held in Las Vegas on Feb. 24. Sales Partnerships was recognized for projects implemented in 2016 for field sales engagement and sales enablement programs for notable business-to-business brands.
The Stevie Awards for Sales & Customer Service are the world's top honors for customer service, contact center, business development and sales professionals. The Stevie Awards organizes several of the world's leading business awards programs including the prestigious American Business AwardsSM and International Business AwardsSM.
The awards were presented during a gala banquet on February 24 at Caesars Palace in Las Vegas, Nev. More than 650 executives from around the world attended.
"We're proud to receive these awards which reinforce our reputation for, and commitment to, finding innovative solutions that drive engagement and revenue for our customers," said Fred Kessler, chief executive officer and chief sales officer for Sales Partnerships. "These types of sales outsourcing services help us attract customers and have facilitated our double-digit growth for the past three years."
Sales Partnerships Field Sales Programs
Sales Partnerships provides turnkey outsourced sales solutions that generate accelerated revenue for the world's leading brands. The company was honored this year for its ability to work closely with a leading financial services company to mobilize 70 field agents on brand messaging and targeting in less than 60 days. The program grew to more than 300 field agents in more than 100 U.S. markets within 10 months. The team was able to generate more than $1 billion in new client revenue. No similar program has ever successfully been launched by another sales outsourcing company in American history.
Sales Partnerships Technology Solutions
Sales Partnerships build proprietary business intelligence and mapping tools to heat map and plan sales territories to be more effective. The technology team is then able to extrapolate data from the field work in real team to adjust territories to maximize the return on investment for clients. In addition to maximizing revenue, our field agents are able to use our software solution to collect customer feedback in real-time. Working hand-in-hand with the client, we can then use this data to adjust training, targeting, and refining of the brand message to constantly keep increasing the return on investment. These solutions are flexible to clients needs and are created with business goals in mind.
In addition to awards for field sales, sales outsourcing, and technology, Sales Partnerships leadership won the following individual awards:
Silver Awards:

Brian Duxbury, Sales Director of the Year
Jeffrey Valentine, Sales Trainer of the Year
David Ricks, Sales Representative of the Year
Sales Operation Team of the Year
Bronze Awards:

Fred Kessler, Senior Sales Executive of the Year
Ryan Steiner, Sales Manager of the Year
Details about the Stevie Awards for Sales & Customer Service and the list of Stevie winners in all categories are available at http://www.StevieAwards.com/sales.
About Sales Partnerships, Inc.
Sales Partnerships is the most-awarded sales and marketing outsourcing organization in North America. We partner with respected brands to identify their highest-value opportunities, address their most critical market challenges, and accelerate revenue. Our customized approach combines deep insights into territory and customer data, the dynamics of companies and markets with close collaboration at all levels of the client organization. This ensures that our clients achieve sustainable revenue and market growth goals. Founded in 1997, Sales Partnerships is a private company with field teams in more than 100 markets. For more information, visit http://www.salespartnerships.com.
Contact: Marie Rotter 303-412-3196 marierotter(at)salespartnerships(dot)com