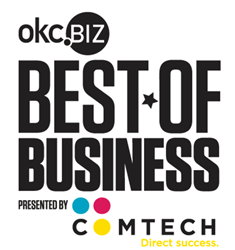 It's our passion for people—not only the employees of the companies with which we partner to significantly improve performance, but our dedicated staff who go above and beyond to serve all corporate partners and individual course participants every day.
Oklahoma City, OK (PRWEB) March 02, 2017
Dale Carnegie Training of Oklahoma is pleased to announce that it was named as one of the top 5 best Continuing Education or Professional Development Institutions for the okc.BIZ 2017 Best of Business program. This program recognizes the best local businesses by offering business owners and managers an opportunity to vote for their preferred business-to-business partners.
Five Best of Business honorees from each of the 25 categories will be honored on March 16, 2017 at awards luncheon which will be held at the Embassy Suites Downtown Medical District. Winners will also be featured in the March 22, 2017 issue of Oklahoma Gazette, online at okc.BIZ and in the official 2017 Best of Business Awards magazine, which will be distributed at the awards luncheon.
The Dale Carnegie Training of Oklahoma franchise is owned and led by Ron Moore, who has been delivering the Dale Carnegie Course® since 1987 and also facilitates programs on Sales, Leadership, Presentation Skills and Team building. Serving in both sales and training capacities for nearly three decades, and owning a small business since 1998, Moore's top priority has always been performing at his absolute best. This is one reason why Ron Moore & Associates, Inc. was recognized by Dale Carnegie Training® with the organization's Millennium Club Award in 2012. This exclusive award is reserved for the highest producing Dale Carnegie offices in sales and market penetration across 80 countries.
Moore is deeply committed to the communities in which his franchise does business. He is a past board member of the Boys & Girls Club, involved in the "Leadership of St. Joseph, MO" project and continues to partner with businesses throughout Oklahoma to help them improve the performance of their people. He is also tribal member of the Muscogee Creek Nation.
When asked what the secret to Dale Carnegie Training of Oklahoma's success is, Moore enthusiastically responded, "It's our passion for people—not only the employees of the companies with which we partner to significantly improve performance, but our dedicated staff who go above and beyond to serve all corporate partners and individual course participants every day."