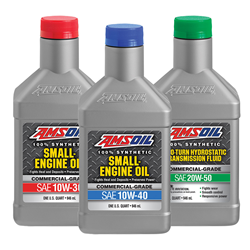 (PRWEB) March 06, 2017
AMSOIL has added two new synthetic lubricants to its lawn and landscape product offerings to better serve landscape professionals who rely on their equipment to make a living. New AMSOIL 20W-50 Zero-Turn Synthetic Hydrostatic Transmission Fluid and new AMSOIL 10W-40 Synthetic Small-Engine Oil join AMSOIL 10W-30 Synthetic Small-Engine Oil to round out this commercial-grade product line.
AMSOIL 20W-50 Zero-Turn Synthetic Hydrostatic Transmission Fluid features a high-zinc formulation to fight wear while preserving mower speed and responsiveness. It is purpose-built to withstand the unique demands of hydrostatic transmissions to resist high-heat and shear while delivering smooth, responsive operation in zero-turn mowers, stand-on mowers and other landscaping equipment commonly used by professionals. Lasting up to two times original equipment manufacturer (OEM) recommendations, it effectively reduces maintenance costs and downtime.
Formerly known as AMSOIL Formula 4-Stroke® Synthetic Small-Engine Oil, new AMSOIL Synthetic Small-Engine Oil has been updated with a new name, label and additional viscosity option. AMSOIL Synthetic Small-Engine Oil is now available in 10W-30 and 10W-40 viscosities. Both feature a robust formulation designed to preserve equipment power while fighting oil consumption caused by high heat commonly found in these applications. AMSOIL Synthetic Small-Engine Oil is formulated with premium anti-wear additives that deliver continuous severe-service protection, resulting in reduced maintenance costs and maximum equipment life.
About the Company: AMSOIL has been the recognized leader in synthetic lubrication since 1972. For more information about AMSOIL contact your nearest AMSOIL distributor, or call AMSOIL at (715) 392-7101 or 1-800-777-8491. AMSOIL INC., 925 Tower Avenue, Superior, WI 54880, or go to http://www.amsoil.com.
News Contact:
Ed Newman
AMSOIL INC.
enewman(at)amsoil(dot)com
715-392-7101
HIGH-RES PHOTOS AVAILABLE ON REQUEST