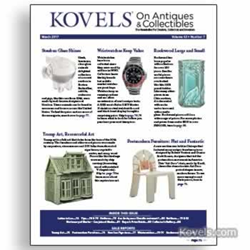 Cleveland, Ohio (PRWEB) March 02, 2017
More than two dozen pieces of "tramp art" are auctioned in Massachusetts and are featured in a sale report in Kovels on Antiques & Collectibles March 2017 newsletter. Tramp art, a type of folk art, was made both by artisans and resourceful do-it-yourself folks from discarded cigar boxes, crates and scrap wood. Find pictures of tramp art cabinets, frames, shelves, even a bird cage, with chip carving and unique details that sold from $200 to over $5,000. Sleek clear Steuben glass animals delighted collectors at a recent Boston auction. A butterfly, rabbit, pig and hippo are part of the glass menagerie pictured with prices in Kovels' March issue, along with a warning that some have been reproduced. And while wristwatch lovers know the big brands, collectors know that vintage middle market watches can be great buys. They grabbed them at a Chicago auction where cool, quality models sold from just over $100 into the low thousands. Examples are included in Kovels' March 2017 newsletter.
Postmodernism is a late-20th-century movement that was a departure from – well – modernism. Furniture pieces designed by Robert Venturi were whimsical interpretations of traditional forms. Examples of his "Chippendale," "Queen Anne" and "Art Deco" chairs auctioned in Chicago for strong prices and are pictured along with other Venturi pieces in Kovels' latest newsletter. And Rookwood pottery has been popular with collectors for over 100 years. Kovels' latest issue pictures small but useful Rookwood articles from bookends to a wall pocket that sold in Cincinnati.
Terry Kovel continues her comparison of past and present prices and popularity of antiques and collectibles. The popular illustrated Collector's Gallery answers readers' questions about an "Apostle" tea set, a Centennial Chippendale chair, a toy Goofy telephone and a 19th-century hanging lamp. The Dictionary of Marks pictures porcelain marks with entwined letters. And more than 70 antiques and collectibles are listed in the Buyer's Price Guide.
Kovels on Antiques & Collectibles is available as a print subscription, or as a digital version that is part of the Kovels.com Premium subscription.
Terry Kovel is America's foremost authority on antiques and collectibles. She is the well-known columnist and author of more than 100 books on antiques and collecting. With her daughter, Kim Kovel, she co-authors the best-selling annual Kovels' Antiques & Collectibles Price Guide. The 2017 edition is available at Kovelsonlinestore.com and local bookstores. They will discuss antiques and collectibles topics with accredited media. Photographs are available. Contact pr(at)kovels(dot)com.
About Kovels.com
Kovels.com, created by Terry Kovel and Kim Kovel, provides collectors and researchers with up-to-date and accurate information on antiques and collectibles. The company was founded in 1953 by Terry Kovel and her late husband, Ralph. Since then, the Kovels have written some of America's most popular books and articles about antiques, including the best-selling Kovels' Antiques & Collectibles Price Guide, now in its 49th edition. The website, Kovels.com, online since 1998, offers more than a million free prices, and includes a free weekly email, "Kovels Komments." It gives readers a bird's-eye view of the market through the latest news, auction reports, a Marks Dictionary, readers' questions and answers and much more.
Contact Information:
Liz Lillis
216.752.2252
Pr(at)kovels(dot)com