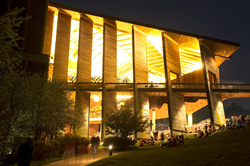 Vienna, Virginia (PRWEB) March 02, 2017
Additional shows to be announced April 6

Chart-topping artists, blockbuster films, and comedy legends take the stage this summer – including Mary J. Blige, John Mellencamp, Academy Award winner La La Land in Concert with the National Symphony Orchestra, renowned Venezuelan conductor Gustavo Dudamel and the National Youth Orchestra of Venezuela, comedic duo Steve Martin and Martin Short, Fifth Harmony, and Blondie & Garbage
Rock along with indie, pop-rock, and soul artists St. Paul & The Broken Bones and Shovels & Rope, PJ Harvey, Regina Spektor with Ben Folds, Elvis Costello & The Imposters, and Joe Jackson
Returning favorites include Queen of Soul Aretha Franklin, Diana Krall, Tedeschi Trucks Band, The Moody Blues celebrating the Days of Future Passed 50th Anniversary Tour, Diana Ross, and Chick Corea Elektric Band with Béla Fleck & The Flecktones
Folk and Americana artists include Sheryl Crow, Punch Brothers with I'm With Her, Natalie Merchant, and more
The Washington-area music community – including Wolf Trap Opera alumni, Choral Arts, The Washington Chorus, and Children's Chorus of Washington – come together at Wolf Trap for a massive Carmina Burana, welcoming the National Symphony Orchestra's new Music Director, Gianandrea Noseda, as part of his inaugural weekend celebrations
National Symphony Orchestra's summer residency to feature singer-songwriter Grace Potter and soundtrack favorites brought to life with The Legend of Zelda: Symphony of the Goddesses and Jurassic Park™- In Concert
Musicals include Broadway's under-the-sea spectacular Disney's The Little Mermaid and the farewell North American tour of MAMMA MIA!
Wolf Trap Opera season features an expanded summer schedule, including Puccini's Tosca at the Filene Center, and UNTRAPPED, a new initiative that brings opera and classical performances to new spaces and unexpected places
Tickets go on sale to the public March 18; Wolf Trap members are buying now
Special promotion on March 18 and 19 only:
$10 lawn tickets and $20 rear orchestra tickets for all National Symphony Orchestra performances, plus Gustavo Dudamel and the National Youth Orchestra of Venezuela and Pilobolus
Wolf Trap Foundation for the Performing Arts has announced the first performances of Summer 2017 at the Filene Center at Wolf Trap National Park for the Performing Arts. Tickets go on sale to the general public beginning at 10 a.m. Saturday, March 18; Wolf Trap members (donors of $75 and up) have access to presales and are purchasing tickets now. A complete calendar of performances may be found at wolftrap.org/calendar and a press release dedicated to Wolf Trap Opera, Symphony and Dance is here. Ticketing information and links to print-ready photography are below.
As America's only national park for the performing arts, Wolf Trap is deeply committed to diversity in programming, access points for music lovers of all kinds, and affordability. The 17-week summer season at the 7,028-seat Filene Center is made possible through a public-private partnership between the nonprofit Wolf Trap Foundation for the Performing Arts and the National Park Service.
"Summer in the Washington-area means packing a picnic, getting your crew together, and enjoying a great show at Wolf Trap," said Arvind Manocha, president and CEO of Wolf Trap Foundation. "Whether you're a classical or classic rock fan, everyone at Wolf Trap shares the same great experience – a night under the stars with friends and family and a chance to leave formality at the office. We have more shows to announce in April, and can't wait to welcome music fans back to the Park in May."
Tickets for all announced performances go on sale to the public on Saturday, March 18 at 10:00 a.m. Opening weekend specials include $10 lawn and $20 rear orchestra seats for all performances by the National Symphony Orchestra, as well as Gustavo Dudamel and the National Youth Orchestra of Venezuela and Pilobolus.
Young At Arts, Wolf Trap's accessibility initiative which offers free youth tickets to select performing arts events, will continue in 2017. A roster of eligible performances will be announced on March 28.
Additional performances at the Filene Center, and all performances at Children's Theatre-in-the-Woods, will be announced April 6, 2017.
Ticketing and On-Sale Information
Tickets for these performances go on sale to the public on Saturday, March 18 at 10 a.m.
Pricing varies by performance and seat location. See individual performance listings online or the calendar below for prices.
Wolf Trap members have access to exclusive presales and may purchase tickets in advance of the general public. Membership starts at $75. For more information, visit wolftrap.org/membership.
Beginning March 18, tickets may be purchased:

Online at wolftrap.org
By phone at 877.WOLFTRAP
In-person at the Filene Center Box Office, 1551 Trap Road, Vienna, VA
Wolf Trap's 2017 season is made possible by generous support from the following
Wolf Trap Foundation Official Sponsors and Partners:
Dan and Gayle D'Aniello, Wolf Trap 2017 Season Underwriters
The PNC Foundation, Premier Sponsor, 2017 Summer Season
The Boeing Company, Major Sponsor, Rock Legends Series
American Airlines, Official Airline
Hilton McLean Tysons Corner, Official Hotel
Steinway, Official Pianos
###
Wolf Trap Foundation for the Performing Arts, a 501(c)(3) nonprofit, produces and presents a full range of performance and education programs in the Greater Washington area, as well as nationally. Wolf Trap features three performance venues: the outdoor Filene Center and Children's Theatre-in-the-Woods, both located at Wolf Trap National Park for the Performing Arts, and The Barns at Wolf Trap, located down the road from the national park and adjacent to the Center for Education at Wolf Trap. The 7,028-seat Filene Center is operated in partnership with the National Park Service and annually showcases an extensive array of diverse artists, ranging from pop, country, folk, and blues to classical music, dance, and theatre, as well as multimedia presentations, from May through September. The Barns at Wolf Trap is operated by the Wolf Trap Foundation year round, and during the summer months is home to the Grammy-nominated Wolf Trap Opera, one of America's outstanding resident ensemble programs for young opera singers. Wolf Trap's education programs include the nationally acclaimed Wolf Trap Institute for Early Learning Through the Arts, Children's Theatre-in-the-Woods, a diverse array of arts education classes, grants, and a nationally recognized internship program.
High-resolution artist and venue images are available in Wolf Trap's online newsroom or may be provided upon request.
Complete performance information is online at wolftrap.org
Interviews with artists may be available upon request and by arrangement with the Wolf Trap PR team.
Requests for complimentary Press Tickets will be accepted beginning April 17, 2017.