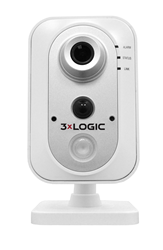 No other camera product on the market today can match our combination of built-in features, ease of installation and flexibility. Matt Kushner, 3xLOGIC CEO
Westminster, Colorado (PRWEB) March 01, 2017
3xLOGIC, Inc., a leading provider of integrated intelligent security solutions, today announced release of their new All-in-one Multi-Sensor camera, along with a significant upgrade to the company's VIGIL Software Suite, which includes VIGIL Server and Client, VIGIL Central Management (VCM), VIGIL POS and the View Lite II Mobile App.
Multi-sensor Camera
The VISIX V-Series 2MP indoor Multi-Sensor camera goes far beyond being an IP video camera. The Multi-Sensor boasts the ability to host VIGIL Server, allowing the camera to record video to the onboard SD card, with full search capabilities in VIGIL Client and in the View Lite II and infinias mobile apps. Use VIGIL Central Management (VCM) to monitor online/offline and recording status as well as number of days of recorded footage. A true all-in-one solution, built-in Passive Infrared (PIR) sensors, 2-way audio with VIGIL Server, and digital I/O allow the Multi-Sensor to be an alarm annunciator, audio system, and video recorder in one, small unit. Paired with an eIDC32 and inifinias CLOUD, users can achieve a completely serverless access control and video system without having to store video in the cloud.
The Multi-Sensor camera was designed for quick, easy deployment, and acts as a stand-alone or integrated security surveillance solution. With our VSX Setup App, even untrained installers can have the camera up and running in minutes with guided installation on their smart device.
A powerful all-in-one device in a tiny package, the 3xLOGIC Multi-Sensor camera provides combined PIR and pixel-based motion detection to reduce false alarms and on-board DIO for alarming and relays. Combine this with infinias CLOUD access management and you have an incredibly low-cost, serverless video and access control solution.
Edge-based devices are a leading trend in video surveillance, and this all-in-one, standalone camera provides a host of benefits including simple remote accessibility, high image quality, easy set-up, scalability, flexibility and affordability. "No other product on the market today can match our combination of built-in features, ease of installation and flexibility. This solution provides every business, regardless of size, the ability to deploy a true enterprise-class, commercial grade cloud-based video and access control at an affordable price," commented Matt Kushner, CEO, 3xLOGIC.
Upgraded VIGIL 9.5 Software Suite
The VIGIL Software Suite provides a powerful, enterprise-grade video management system (VMS) with unrivaled ease of set-up and use. VIGIL Server software is the core program upon which all other 3xLOGIC applications are built. With an Easy Set-up Wizard to guide users through installation, the application has users up and running in minutes. Designed with limited bandwidth in mind, VIGIL Server utilizes 3xLOGIC proprietary RapidStream technology and Substream Motion Detection capabilities to provide high resolution over low bandwidth networks. Server is compatible with all ONVIF Profile S cameras, including 3xLOGIC's Time of Flight, Thermal, V- and S-Series cameras, and it boasts a library of more than 150 Point-of-Sale integrations.
VIGIL Client offers unrivaled access to live and recorded video from any networked 3xLOGIC NVR. Advanced playback and intelligent SmartSearch™ functionality helps identify events of interest quickly, for fast, easy review. The result is a more accurate and efficient investigation of incidents with simple export of evidence material. Additional software packages for VIGIL Server are available, including POS, Video Analytics Reporting, and VCM for centralized health monitoring and management.
What's New with VIGIL 9.5

Advanced POS Exception Reporting: POS and Video Analytics users can now see daily, monthly, and yearly reports. POS events are broken out by rule and by cashier to provide at-a-glance views of which cashiers are initiating the most exceptions. Users deploying 3xLOGIC Time of Flight or V-Series cameras can now see average wait times and people counts from a monthly overview, on down to a specific hour in a specific day.
Digital PTZ Presets: With new multi-megapixel and multi-sensor cameras being released at a record pace, cameras are now used to monitor multiple areas of interest. Digital PTZ Presets can save areas of interest as separate cameras, allowing these views to be associated with POS and alarm data for easy event review.
Email Overview in Client: VIGIL Client now offers the ability to set-up and manage all email alerts from a single location. Whether it's POS Exceptions or local Health Monitoring, emails can be set-up remotely, in one location.
VIGIL Remote Update Utility: Large projects involve many users looking at video remotely. Updating all those devices presents a challenge. With the Remote Update Utility, users specify a centrally-located FTP location as the host for all new versions of VIGIL software. Once a file is uploaded, the utility has the option to check for, download, and/or install the updates. Alternatively, the 3xLOGIC Cloud FTP offers downloads of new versions as soon as they are available.
"We are very excited about the 9.5 release. This new version provides a host of new features designed to help business owners understand their business trends and identify areas for improvement. VIGIL 9.5 reaffirms our commitment to providing enterprise-grade video management to all our VIGIL users," said Kushner.
Both the Multi-Sensor camera and VIGIL 9.5 Software Suite are available today and will be on display at ISC West in Las Vegas, NV April 5-7 at 3xLOGIC's booth# 23067.
About 3xLOGIC
3xLOGIC Inc. has been a leading innovator in server and cloud-based security technology for 15+ years. The company is recognized for providing easy-to-use surveillance and business intelligence solutions that seamlessly integrate video, access control, and disparate data such as ATM, Point-of-Sale, analytics, and more.
3xLOGIC's video surveillance solutions are engineered for ease of installation, scalability and affordability combined with a managed services portfolio that enables integrators to effectively evolve from dealers to high-value strategic partners. For more information about 3xLOGIC, please visit our website http://www.3xlogic.com.
For 3xLOGIC Media Queries:
Bruce J. Doneff
Public Relations
843.476.3022
doneff(at)verizon(dot)net
###