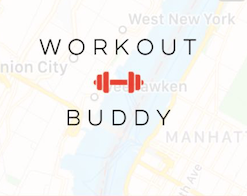 We designed FITBOX and the companion mobile app FITBOX Plus to offer our members a one-stop-shop for all things fitness.
New York, NY (PRWEB) March 02, 2017
FITBOX, a monthly active wear membership box service, announced the launch of their new Workout Buddy feature in its mobile app, FITBOX Plus. Starting today, FITBOX users can find fitness classes and connect with new workout friends in their area using a geo-tagging feature. Rolling out the Workout Buddy feature in New York City to begin, FITBOX has partnered with two popular fitness studios, Mile High Run Club, and Banana Skirt Productions.
To access Workout Buddy, users will only have to open the mobile application in their desired area and classes will populate on the home screen based on their location. Currently, Workout Buddy will only be offered in the NYC area but plans to expand are in the future according to FITBOX CTO Gregory Lowe II. "We designed FITBOX and the companion mobile app FITBOX Plus to offer our members a one-stop-shop for all things fitness. Finding fitness events and friends to workout with will no longer be a barrier to get into the gym and maintain a fit body while wearing our curated outfits," says Lowe.
 
Mile High Run Club is the first studio of its kind for indoor and outdoor running and is the leading innovator within New York City's athletic community. Since its inception in 2014, Mile High Run Club has opened two indoor training studios located in NoHo at 28 East 4th Street and NoMad at 24 West 25th Street, developed a marathon training program led by Olympic athletes and coaches, introduced a racing team, Team MHRC, and built a running focused travel division, Mile High Wings.
 
Widely known for its pop star themed classes, Banana Skirt Productions, features choreographed dance classes led by seasoned instructors for all levels of fitness. With classes seven days a week at their midtown Manhattan studio, attendees can choose between classes featuring dance numbers by Beyonce, Lady Gaga, JLo, Rihanna, Christina Aguilera and more, along with one of its most popular class, Ratchet Zooba.
 
In addition to Workout Buddy, the FITBOX Plus mobile application also features the FITLIFE Magazine with articles by leading fitness influencers, workout tips, promotions, healthy food recipes, workout playlists and more, in addition to allowing users to browse and shop their favorite active wear brands.
 
To download Workout Buddy and fitness classes and events in your area, visit https://itunes.apple.com/us/app/fitbox-plus/id1059098243?mt=8.