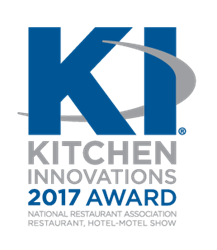 Baldwin Park, CA (PRWEB) March 03, 2017
The National Restaurant Association announced the recipients of the 2017 Kitchen Innovation (KI) Awards, which honors the inventors, creators and innovators that make the jobs and lives easier for the back-of-the-house operators and restauranteurs, by creating more efficient technologies and equipment. The KI Award recipients will be showcased at the prestigious NRA Show Kitchen Innovations Pavilion at the 2017 National Restaurant Association Restaurant and Hotel-Motel Show, held from May 20th thru the 23rd in Chicago at McCormick Place.
The 2017 KI Award recipients reflect the trends and topics most important to food-service operators today. The 18 selected innovations address operator concerns from labor, energy and water efficiency to food safety, sanitation, cross-functionality and space-saving. New software and new materials continue to make new solutions possible. We at Turbo Coil are grateful to the NRA Show Kitchen Innovations judges for recognizing our work.
"The engineers and inventors who develop these KI Award innovations work tirelessly to solve the challenges of back-of-the-house operations, to the great benefit of restaurant operators," says Atour Eyvazian, Convention Chair for NRA Show 2017 and multi-unit owner of 107 Jack in the Box restaurants in Houston and San Antonio. "The KI award is a testament to their contributions in improving the food-service industry."
Turbo Coil is proud to receive this award for a record 4th consecutive year. The three previous years Turbo Coil has won KI Awards for their Compact Refrigeration Coil in 2014, their partnered work with Montague's Saute' Station in 2015 and the ICLS R290/Glycol Chef Base in 2016.
Our policy has always been to make our products in the USA. We have engineered all of our products for ease of service and quality with the restaurants operators in mind as well as the technicians who service them. They are the longest lasting and most energy efficient products in the industry.
Turbo Coil's Dual Zone Mega Top Prep Table
This prep table is designed with an eye to energy efficiency as well as keeping focused on allowing the user the ability to adjust two separate temperature "zones" to keep product at the desired temperature, independent of each other. The two Turbo Coil refrigeration coils are run with one controller which allows for pin-point control and is easily adjusted. The mega prep table top will keep all toppings at the perfect temperature, while allowing the bottom cabinet to be set to a different temperature need.

Stainless steel through-out.
Drawers or reach-in cabinet
Built-in cutting boards
Available in 60" or 72"" long sizes
Carel controls for ease of use
Side access for easy service
Front "breathing" for better air flow