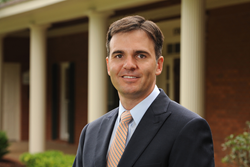 Boston, Mass. (PRWEB) March 02, 2017
SVN International Corp. (SVN), a full-service commercial real estate franchisor of the SVN® brand, announces the addition of its newest franchise office, SVN | Southgate Realty, LLC in Hattiesburg, MS. Led by Managing Directors Gene Carothers, CCIM and Chamberlan Carothers, CCIM, CPM, the new family-owned office provides full-service commercial real estate brokerage and property management services throughout the Mississippi Gulf Coast region.
With over 37-years experience in the Mississippi commercial real estate market, Gene and Chamberlan Carothers have an extensive and impressive background in the property and investment management of multifamily assets, including serving on or leading several industry boards and councils. Today, the SVN | Southgate Realty, LLC property management portfolio consists of 17 apartment communities which contain 856 units, 3 office buildings and 6 shopping centers. The team at SVN | Southgate Realty, LLC now looks to take their firm to the next level by coupling their vast experience with SVN's unique, collaborative model and global platform.
"We take great pride in combining nearly four decades of local market insight with the global commercial real estate reach of SVN to give our clients the greatest knowledge and exposure available," says SVN | Southgate Realty, LLC Managing Director Chamberlan Carothers, CCIM, CPM. "By joining SVN we see a tremendous opportunity to create amazing value for our clients, colleagues, and community."
SVN | Southgate Realty, LLC is the first SVN office in Mississippi, joining eight other SVN Gulf Coast offices located in Louisiana, Alabama and Florida's Panhandle.
"We've been looking to add an office in Mississippi, and Gene and Chamberlan's local market experience, knowledge and success make them a perfect fit for the SVN platform," says SVN President and CEO Kevin Maggiacomo. "Now clients in Hattiesburg have access to SVN's collaborative brokerage model, which is not just good business, it's proven to be good for everyone's bottom line."
SVN is the only major commercial real estate brand that markets all of its qualified properties to the entire brokerage and investment community. Participating in approximately over $10 billion in sales and leasing transactions in 2016, SVN Advisors shared commission fees with co-operating brokers in order to close more deals in less time and at the right value for clients. Advisors also reap the benefits of our SVN Live® Weekly Property Broadcast, cloud-based leading-edge technology, and national product councils. This open, transparent and collaborative approach to real estate is the SVN Difference.
For more information on SVN | Southgate Realty, LLC, please visit https://SouthgateRealtyLLC.com.
To learn more about becoming an SVN commercial real estate business owner, visit svn.com/franchising-opportunities.
About SVN®
SVN International Corp. (SVN), a full-service commercial real estate franchisor of the SVN® brand, is one of the industry's most recognized names based on the annual Lipsey Top Brand Survey. With 200 offices and over 1600 Advisors and staff, SVN provides sales, leasing, corporate services and property management services to clients across the globe. SVN Advisors also represent clients in affordable housing, auction services, corporate real estate, distressed properties, golf & resort, hospitality, industrial, investment services, land, medical, multifamily, office, retail, self-storage and single tenant investments. All SVN offices are independently owned and operated. For more information, visit http://www.svn.com.
###
Contact
Chamberlan Carothers, CCIM, CPM
Managing Director
SVN | Southgate Realty, LLC
CCarothers(at)svn(dot)com
601.264.4622