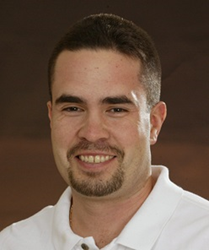 My goal is to support Team USA in competing at a high level throughout the World Baseball Classic...
PITTSBURGH, Pa (PRWEB) March 03, 2017
Allegheny Health Network's Director of Sports Performance, Frank Velasquez Jr., ATC, CSCS, has been selected the strength and conditioning coach for Team USA in the World Baseball Classic. Velasquez will oversee the strength training, conditioning and overall wellness program for the team's 28-man roster comprised of many of the highest performing Major League Baseball (MLB) players.
Velasquez is a certified athletic trainer and certified strength and conditioning specialist who worked in professional baseball for 16 years, including nine years with the Pittsburgh Pirates. In 2015, he joined Allegheny Health Network (AHN) to serve as Director of the Sports Performance program based at the AHN Sports Complex at Cool Springs in Bethel Park, Pa. and the Wexford Health + Wellness Pavilion in Wexford, Pa.
The World Baseball Classic is the premier global baseball competition in which 16 teams from countries around the world participate. After three rounds over the course of two weeks, the winning team is named the world champion. Team USA, led by Manager Jim Leyland, will play its first game on Friday, March 10 against Team Colombia at Marlins Park in Miami, Florida.
With the Classic taking place just weeks away from the start of the MLB regular season, Velasquez says that part of his duties will be to assist the players in their preparation for the upcoming season.
"My goal is to support Team USA in competing at a high level throughout the World Baseball Classic, but I'll also be there to assist each of the players in the continuation of their spring training regimens," said Velasquez. "Having spent many years working in professional baseball, I have a true appreciation for the game and am extremely honored to have this opportunity."
Under Velasquez's leadership, the AHN sports performance team offers advanced, individualized strength training, physical therapy, sports nutrition, massage therapy and sports medicine services for developing youths, performing athletes and active adults. Specialty programs available include strength training for endurance athletes, in-season arm care, summer/winter athletic development and the ACL integrity program.
These programs follow proven, industry-leading protocols and are supported by highly advanced technologies, including an Alter-G anti-gravity treadmill, the Dynavision Reaction Board visumotor-training device (designed to improve reaction times), and the Makoto Functional Arena (a 360-degree, multi-planar simulator that provides a close approximation to real-time sports). The state-of-the-art facility also houses one of the region's first and only cryosaunas – a chamber designed to rapidly cool the body to aid in muscle recovery.
"With Frank's depth of expertise and ongoing commitment to the development of athletes at all levels, it is no surprise that he has been asked to help lead Team USA in the World Baseball Classic," said Patrick J. DeMeo, MD, Chair of the AHN Orthopaedic Institute and Medical Director of the Pittsburgh Pirates. "We are extremely pleased to have Frank represent AHN on this global platform and wish him and the team the best of luck."
AHN is the official medical provider of the Pittsburgh Pirates, Pittsburgh Riverhounds, Gannon University, the Community College of Allegheny County and 19 Pittsburgh-area high school athletic programs. It is also one of a few select healthcare providers in the country designated as an official US Olympic Regional Medical Center.