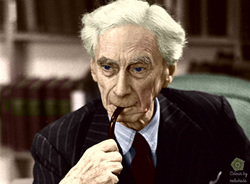 ... commit your governments to the realizable objective of a nuclear weapons-free world.
Rochester, New York (PRWEB) March 03, 2017
The president of the Bertrand Russell Society, Dr. Timothy Madigan, has written Presidents Donald Trump and Vladimir Putin on behalf of the Society to encourage them to work together towards eliminating nuclear weapons. Madigan, a philosophy professor at Saint John Fisher College in Rochester, New York, tells both presidents that his organization supports the Nuclear Age Peace Foundation's recent plea and "open letter" to the White House and Kremlin regarding nuclear weapons, wherein it asks both presidents to "commence negotiations to reduce the dangers of a nuclear war, by mistake or malice, and immediately commit your respective governments to the realizable objective of a nuclear weapons-free world." The letter was signed by many scholars and luminaries, including members of the Bertrand Russell Society such as Daniel Ellsberg and Noam Chomsky.
Madigan also sent the leaders a copy of what might have been Bertrand Russell's shortest book, History of the World in Epitome, which in only a couple of spare drawings and 21 words summarizes human folly throughout history and its ultimate doom in the event of a nuclear holocaust. Russell published the little book on his 90th birthday in 1962, only a few months before the Cuban Missile Crisis, a time when the world stood at the precipice of nuclear catastrophe, and, as we now know, a horror that was only barely averted. Russell, a renowned mathematician, philosopher, and Nobel Prize laureate, worked tirelessly to reduce the nuclear threat during the Cold War until his death in 1970 at age of 98. Russell and the great physicist, Albert Einstein, issued their famous Russell–Einstein Manifesto in 1955 to highlight the dangers posed by nuclear weapons, calling for world leaders to seek peaceful resolutions to international conflict.
The Bertrand Russell Society is an international association of scholars and admirers of Russell, and it seeks to promote the study and furtherance of his ideas and ideals. Information about the Society may be found at its website http://bertrandrussell.org/ and individuals may apply for membership at http://form.jotform.us/form/31117633909151