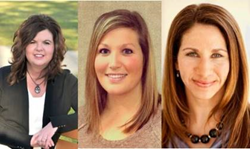 The diverse talents within our organization are well represented by this outstanding group of women.
Dalton, Ga. (PRWEB) March 01, 2017
The Manufacturing Institute will award Shannan Billings, Global Sourcing Director of Raw Materials; Amber Holland, Director, IS Administration Systems; and Danielle Lancianese, Technical Manager, with the Women in Manufacturing STEP (Science, Technology, Engineering and Production) Ahead Award. The STEP Ahead Awards honor women who have demonstrated excellence and leadership in their careers and represent all levels of the manufacturing industry.
Billings and Holland are among the 100 recipients to be recognized as honorees and Lancianese is among the 30 emerging leaders selected. These winners of this year's award were selected amongst hundreds of applicants from numerous manufacturers across the country reflecting the diversity of manufacturing sectors and positions.
Billings was selected for her leadership in supporting the company's product category shifts through vendor negotiations and ongoing supplier relationships; Holland was selected for transforming several information services processes within Shaw; and Lancianese for her contributions as a lead innovator and driver of the development of a moisture resistant laminate flooring. All were recognized for their demonstrated leadership within the company, including efforts to mentor others.
"These 130 women are the faces of exciting careers in manufacturing," said Jennifer McNelly, executive director, The Manufacturing Institute. "We chose to honor these women because they each made significant achievements in manufacturing through positive impact on their company and the industry as a whole. The STEP Ahead Awards are part of the larger STEP Ahead initiative, launched to examine and promote the role of women in the manufacturing industry through recognition, research, and leadership for attracting, advancing, and retaining strong female talent."
On April 20, 2017 The Manufacturing Institute will recognize the 130 recipients of the STEP Ahead Awards at a reception in Washington, D.C. The STEP Ahead Awards program will highlight each Honoree's story, including their leadership and accomplishments in manufacturing.
"We are proud that the accomplishments of these women are not just recognized within our company, but also within the broader industry at-large," said Vance Bell, Chairman and CEO, Shaw Industries. "The diverse talents within our organization are well represented by this outstanding group of women."
Since the inception of the STEP Ahead Awards, nine Shaw associates have been recognized through the program.
About Shaw Industries
Shaw Industries Group, Inc. offers a diverse portfolio of carpet, hardwood, laminate, resilient, tile & stone flooring products, synthetic turf and other specialty items for residential and commercial markets worldwide via its brands Anderson, Patcraft, Philadelphia Commercial, Shaw Contract, Shaw Floors, Shaw Hospitality, Shaw Sports Turf, Southwest Greens, Tuftex, USFloors and more.
Headquartered in Dalton, Georgia, Shaw is a wholly owned subsidiary of Berkshire Hathaway, Inc. The company employs more than 20,000 associates with offices; R&D, manufacturing, warehousing and distribution locations; product showrooms; and/or salespeople throughout the U.S., as well as Australia, Belgium, Brazil, Canada, Chile, China, India, Mexico, Singapore, United Arab Emirates, and the United Kingdom. For more information, visit http://shawinc.com.
About The Manufacturing Institute
The Manufacturing Institute (the Institute) is the 501(c)(3) affiliate of the National Association of Manufacturers. As a non-partisan organization, the Institute is committed to delivering leading-edge information and services to the nation's manufacturers. The Institute is the authority on the attraction, qualification and development of world-class manufacturing talent. For more information, please visit http://www.themanufacturinginstitute.org.