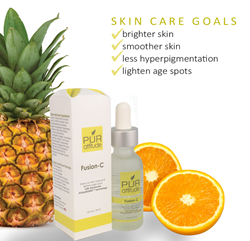 "What sets PUR attitude's Fusion-C apart is that we have 5 Vitamin C sources – while most others companies only use 1-2 sources – which makes our dose very effective in comparison to others."
Boca Raton, Florida (PRWEB) March 09, 2017
PUR attitude, LLC, the safe skin care company announced today the launch of their Fusion-C Serum. The product features a potent dose of a unique form of Vitamin C, which has powerful antioxidant effects on the skin protecting it from the elements, evening out skin tone, and lightening age spots.
Why does PUR attitude Fusion-C Serum stand out above the rest? Chemists at PUR attitude explain, "What sets PUR attitude's Fusion-C apart is that we have 5 Vitamin C sources – while most others companies only use 1-2 sources – which makes our dose very effective in comparison to others." Other than the hyaluronic acid, they stated that the 2nd most important ingredient is the Licorice, which is different than what other companies use for skin whitening and redness reduction.
PUR attitude™, replaces water, which is traditionally found in most skin care products with patent-pending Hyaluronix™, a natural new beauty ingredient with a similar composition to the hydration substance found in almost every cell of the human body. By combining this patent-pending technology with essential vitamins, anti-oxidants and nutrients, PUR attitude seeks to redefine innovation in beauty with 100 percent pure and safe active skin care ingredients.
"Most people understand the value of Vitamin C, thanks to the pioneering research by Linus Pauling. Vitamin C is one of the building blocks of a healthy lifestyle. That's why we are so proud and pleased to announce our Fusion-C Serum. It is a true beauty secret that everyone should embrace." stated Jerry Rayman, CEO.
Going further into their Safe Beauty Philosophy, PUR attitude has signed the Campaign for Safe Cosmetics and has banned over 1,300 ingredients from its Research & Development laboratory. This dramatic move is part of PUR attitude, LLC's plan to go global and meet the European Union (EU) formulation standards, which considers these 1,300 ingredients harmful and toxic.
Each product in the PUR attitude follows their brand philosophy of "Safe Beauty," avoiding harsh chemicals, parabens, PEG's, glycols, sulfates, petro-chemicals, synthetic fragrances and artificial dyes and has many consumer-stated positive results.
PUR attitude products are available at http://www.PURattitude.com . They can also be found on Amazon. The products will be available for traditional retail distribution later this year. For more information, visit http://www.PURattitude.com