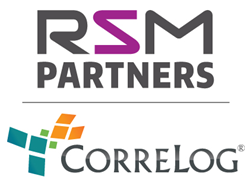 The complementary functions of CorreLog zDefender and dbDefender products, coupled with RSM's zDetect, will provide unprecedented security auditing and compliance for our enterprise clients
Naples, FL (PRWEB) March 02, 2017
CorreLog, the leader in mainframe & multi-platform IT security event log management, today announced a technology partner agreement with RSM Partners, a global provider of mainframe infrastructure services, software, and expertise for the IBM z System marketplace. The technology agreement combines best-in-class security software from both CorreLog and RSM, with RSM providing deep services expertise across all areas of z/OS.
"RSM is a known leader in IBM mainframe infrastructure expertise and we are honored at the opportunity to partner with them," said George Faucher, CorreLog founder and CEO. "The complementary functions of CorreLog zDefender and dbDefender products, coupled with RSM's zDetect, will provide unprecedented security auditing and compliance for our enterprise clients."
CorreLog's zDefender™ for z/OS is the leading mainframe event log management security product on the market for large enterprise environments in Government and public/private sectors. In real-time, zDefender™ delivers security event messages from z/OS to distributed Security Information & Event Management (SIEM) systems and IT Security Operations Centers (SOC), so that enterprise security admins can monitor privileged user activity from mainframe and distributed systems in the same dashboards. SIEM Agent auto-formats event messages from RACF, CA-ACF2, CA-Top Secret, DB2, IMS, CICS, IND$FILE, TSO Logons, FTP, TCP/IP, and other facilities and in real time, then forwards the messages to a SIEM or IT SOC. zDefender™ will be the agent-based technology that RSM's zDetect will use to correlate and send real-time events to clients' distributed SIEMs and SOCs.
CorreLog's dbDefender™ provides Database Activity Monitoring (DAM) for both DB2 and IMS datasets with an agent-based software program that can be sold as a bundle with the CorreLog zDefender™ for z/OS product or as standalone solution. dbDefender™ for z/OS monitors database activity for any sign of unauthorized access or even attempt to view datasets, then logs the event messages for auditing and compliance and sends a real-time notification of the activity to a distributed SIEM or SOC.
RSM's zDetect uses system data on the mainframe and manages a database of mainframe correlation events looking for user and system behavior indicative of cyber-threat. RSM will use CorreLog's zDefender™ and dbDefender™ to send the mainframe event data, in real time, over to clients' distributed SIEM systems and SOCs. With the CorreLog partnership, RSM clients can see the correlated mainframe security events alongside other distributed security data in their SIEM or SOC.
"We see the combination of the two technologies offering unique value and insight for those enterprises seeking reliable real-time alerting of security threats on their mainframe platform," said RSM Founder, Technical Director, and Security Practice Leader Mark Wilson. "The wide capability delivered by CorreLog, combined with the security threat algorithms contained in RSM's zDetect knowledge base is unrivalled in the marketplace. CorreLog has rightfully established a global leadership position in this area and RSM is very pleased to be able to offer significant added depth and value."
Learn more about CorreLog and RSM at SHARE San Jose, March 5-10
CorreLog and RSM Partners will be featuring zDefender and zDetect along with other new security solutions at SHARE San Jose, March 5-10. CorreLog will exhibit from booth number 218 and will host or co-host two educational track speaking sessions. RSM Partners will host or co-host two educational sessions as well.
CorreLog Educational Sessions at SHARE San Jose:

"Cybercrime Fighting for Mainframe Superheroes – A Holistic Approach:" Charles Mills, Dir. Advanced Projects featured speaker. Monday, March 6, 3:15pm. Session #20373 | Speaker bio.
"What the Heck is a SIEM and What Do I Feed It?" Charles Mills co-presenting with Brian Marshall, Vanguard Integrity Professionals; Carla Flores, CA Technologies; and Julie A. Bergh, IBM Corporation. Tuesday, March 7, 11:15am. Session #20677.
RSM Educational Sessions at SHARE San Jose:

"RACF Commands for Dummies:" Mark Wilson, Technical Dir. RSM Partners featured speaker. Tuesday March 7, 10:00am. Session #20287 | Speaker bio.
"Avoiding Configuration Pitfalls of IBM RACF, CA ACF2 and Top Secret — External Security Manager (ESM) Do's and Don'ts for Dummies:" Mark Wilson co-presenting with Richard Faulhaber, NewEra Software, Inc; and Carla Flores CA Technologies. Wednesday, March 8, 3:15pm. Session #20542.
For more information on SHARE San Jose 2017, please visit http://share.org/san-jose.
About RSM Partners:
RSM Partners is a globally recognized specialist in IBM mainframe security – providing both consultancy services and niche security software tools. Working with some of the world's largest organizations – no other offers the same depth of knowledge and experience in ensuring mainframe security. From specialist penetration testing and vulnerability assessments, to software tools greatly enhancing security management of the platform, clients know they can rely on RSM for quality, flexibility, and value.
RSM is a UK Crown Commercial Supplier and an IBM Business Partner. In 2016 RSM software received Ready for IBM Security Intelligence accreditation from IBM.
For more information about RSM Partners, please visit http://www.rsmpartners.com.
About CorreLog:
CorreLog, Inc., a privately held corporation, is an independent software vendor (ISV) that has produced software and framework components used successfully by hundreds of private and government organizations worldwide. Our core solutions provide visibility across both mainframe and distributed systems on user activity that is indicative of cyber threat. Since 2008, CorreLog, Inc. has been committed to delivering better decision-support solutions for InfoSec and security auditing professionals who need more advanced perimeter security and improved adherence to PCI DSS, HIPAA, SOX, IRS Pub. 1075, FISMA, NERC and other industry standards for securing data. Our solutions are designed to be highly interoperable and complementary to clients' existing IT investments.
CorreLog zDefender™ holds certified integrations with IBM, HP, Intel (McAfee) Security, Micro Focus, (EMC) RSA Security Analytics, and field integrations with all other brand-name SIEMs. We consider our technology approach to be unique in both personnel and product and we believe our solutions pass the test of low total cost of ownership with high SIEM functionality. For more information on CorreLog products, please visit http://www.correlog.com.
Copyright © 2017, CorreLog, Inc. All rights reserved.
All trademarks and registered trademarks used herein are the properties of their respective owners.
Press Contact:
Tony Perri, CorreLog Marketing & PR
Office: (239) 514-3331, xt. 406
tony.perri(at)correlog(dot)com