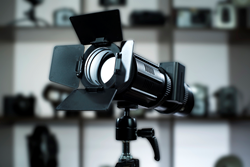 (PRWEB) March 02, 2017
Fotodiox Pro, creator and distributor of several lines of specialty solutions for videography, cinematography and photography, has announced the PopSpot Focusable Fresnel – a mighty Fresnel LED light in a tiny package. Roughly the size of a soda can, the PopSpot allows photographers and videographers to focus its powerful beam for fantastic precision, strong contrast and dramatic shadows. It is available now on FotodioxPro.com in three configurations: the PopSpot Focusable Fresnel, the PopSpot Focusable Fresnel + Battery Module, and the PopSpot Focusable Fresnel 3-Light Kit with Rolling Carrying Case.
"The problem with most Fresnel lights is they're typically quite bulky, heavy and fragile, and they get screaming hot to the touch," said Bohus Blahut, marketing director for Fotodiox Pro. "But our new PopSpot Focusable Fresnel does away with those pitfalls by combining power and control in a form factor about the size of a pop can. A simple twist focuses the PopSpot's output from a 55° to 25° beam angle, and removable barn doors offer further control of the shape and direction of the light. We've even included a slot for a slide-in tungsten filter."
Not only is the PopSpot an ideal light for tabletop shooting or as a rim or hair light, it can be used as a primary light in many shooting scenarios. Its compact size and lightweight build offers flexibility in mounting, positioning, and concealing, and allows it to travel virtually anywhere. The PopSpot runs off either conventional AC power or an optional battery module for on-the-go lighting, and remains cool throughout use.
To learn more about the PopSpot Focusable Fresnel and other photography and videography accessories from Fotodiox Pro, please visit FotodioxPro.com.
About Fotodiox
Serving the photo and video markets since 2004, Fotodiox Pro is a leading manufacturer and distributor of high-quality, professional and affordable photography and videography accessories. Known for such products as the WonderPana wide-angle filter system, the Vizelex ND Throttle adapter series, the ever-expanding line of award-winning GoTough accessories for GoPro cameras, and the groundbreaking FlapJack LED Edgelights, Fotodiox Pro is also responsible for bringing the CamDolly Cinema System – the industry's first truly portable, modular dolly system for professional videography gear – to filmmakers in the United States. For more information about Fotodiox Pro, please visit http://www.fotodioxpro.com, http://www.youtube.com/user/FotodioxInc, http://www.facebook.com/Fotodiox and http://www.twitter.com/Fotodiox.