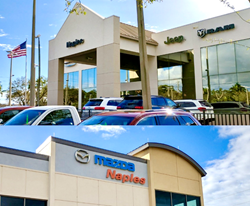 We felt the acquisitions of these two stores was positive in two ways: it brings us into a new market here in Southwest Florida that we happen to think a lot of, and it brings us five brands that weren't currently on our roster
Naples, FL (PRWEB) March 02, 2017
Morgan Auto Group, one of the largest dealership groups in the nation, announced the purchase of Naples Mazda and Naples Chrysler Dodge Jeep RAM. The dealerships were sold on Wednesday, March 1, 2017 by second-generation dealers Tom and Jon Myers.
"It's been a true honor getting to know the Myers brothers during this process," said Morgan Auto Group CEO Brett Morgan. "They are truly two of the finest gentleman that can be found in the business and we felt that we could be the finest caretakers of their legacy, their employees, and their life's work."
The purchase marks the automotive group's first acquisition in the Naples market. It also gives the Tampa-based automotive group a total of 23 rooftops and 20 unique brands.
"We felt the acquisition of these stores was positive in two ways: it brings us into a new market here in Southwest Florida that we happen to think a lot of, and it brings us five brands that weren't currently on our roster," stated MAG Chairman Larry Morgan.
Morgan Auto Group now has dealerships in Sarasota, Tampa, Wesley Chapel, Holiday, Port Richey, Ocala, Gainesville, Lake City, FL and Columbia, Missouri.
Both dealership names will stay the same and the current General Manager, Wayne Gratkowski will stay over both stores.
About Morgan Auto Group
The story of Morgan Auto Group starts out with Larry Morgan acquiring a Clearwater-based retail tire business in 1991. Over the years, the vision has gotten bigger, and today Larry Morgan and his son, Brett Morgan, own and operate the entire auto group. In 2008, Toyota and Time magazine recognized Larry Morgan for his success in sales, customer service, and charitable work in the community, and Tampa Bay CEO Magazine called him one of the Top 100 Most Influential Business Leaders in Tampa bay in 2009.
Today Morgan Automotive Group is comprised of 23 auto dealerships throughout the Tampa Bay area as well as Sarasota, Ocala, Gainesville, Lake City and Columbia, Missouri. Over the past 13 years, founders Larry and Brett Morgan have built a successful family of car dealerships through hard work, dedication, and a commitment to quality people.