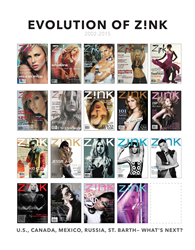 Zink is important because fashion is important, even more so in the last two decades.
New York, NY (PRWEB) March 02, 2017
The internationally renowned fashion and lifestyle magazine, and Pixel Award, Webby Award and Gold Ink Award Winner Zink Magazine (styled Z!nK) will relaunch in 2017 under a new Editor-in-Chief, producing a print edition with a focus on digital.
Zink began publication in the Spring of 2002 and quickly found success due to its provocative editorial and creative direction. Over the last 15 years, Zink's exclusive and avant-garde content included celebrity cover stars like Charlize Theron, Karlie Kloss, Olivia Culpo, Jessica Alba, Heidi Klum, Shakira, Christina Aguilera, Tyra Banks, and exclusive conversations with tastemakers and entrepreneurs like Jay Z.
"Zink is important because fashion is important, even more so in the last two decades. Stylish women and men want information about what's new, what's best, and what their options are in fashion, beauty, and experiences," said Constance C.R. White, Zink's new Editor-in-Chief. An award-winning journalist, Ms. White is renowned for her wealth of experience and significant contributions across print, broadcast and online.
Among its storied history, Zink has been the Official Fashion Publication of Mercedes-Benz Shows LA (2003-2004), Fashion Weeks in Montreal (2005), Toronto (2005) and San Francisco (2005), as well as the Magic Tradeshow in Las Vegas (2004-2005). The magazine provided celebrity profiles on location at the Sundance Film Festival (2004) with FilmMagic, and backstage coverage of Cirque du Soleil (Varekai) during their 20th Anniversary.
"We see these worlds collide in music, tech, and politics. That's why Zink continues to be the authority on what is in the moment," said Sheriff Ishak, Zink Media Group's Founder.
Rachael C. Lewis will be joining Zink as President and CEO. Ms. Lewis brings a focused and visionary approach to the brand. Throughout her career, she has shaped the careers of celebrities, models, and artists with tireless integrity and style.
The Zink staff has retained myEPK Media to serve as their digital and marketing partner and The JDot. Agency for public relations. Both companies have helped celebrities, businesses, and more rebrand online & in print media.
The Zink brand had a global audience of almost 3 million, which the new team will rebuild and which is expected to grow to 20 million by 2018 and will be featured in luxury hotels around the world. "For some time now, Zink has been on the cutting edge of what's new in fashion, beauty, culture and travel and will continue to be," said Ms. White. The magazine expects to be licensed in 6 countries by 2018.
The Zink Global office will be located in the famed Grumman Studios (where feature films like Salt, starring Angelina Jolie, The Avengers, The Amazing Spider-Man 2 and numerous commercials for brands like L'Oreal) on Long Island, New York.
###
For more information on Zink Magazine, visit zinkmagazine.com.
Contact:
JDot.
The JDot. Agency
jdot(at)thejdotagency(dot)com
917-407-7811