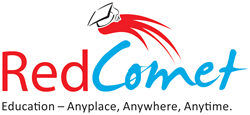 Prosser, WA (PRWEB) March 03, 2017
To meet the 24-credit graduation requirement mandated by Washington State's Office of Superintendent of Public Instruction (OSPI) for High School graduation, Red Comet has added several new courses to its core curriculum. Many of these new courses are career-oriented and are designed to help students succeed in the workplace. These new courses help students explore various career paths so that they may make the right choices when it comes to college education. "Red Comet's goal is to help students in Washington State meet all credit requirements so that they are college-ready", said Ms. Ganeshan who is the President of Red Comet.
Red Comet is a Fully Accredited (AdvancED) organization that has been offering online courses for credit since 1999. Students have over 175 courses to choose from. Many of these courses are also approved by the NCAA organization. In the State of Washington, the Office of Superintendent of Public Instruction (OSPI) has approved the Red Comet program as a "Multi-District Online Provider," "Online Course Provider," and "Online School Program". In a statewide survey, Red Comet received high ratings for student satisfaction. Students use the Red Comet online program for original credit, credit retrieval, and credit recovery.
For Immediate Release
Contact Information:
Ms. Sapna Ganeshan
President,
Red Comet
http://www.redcomet.org