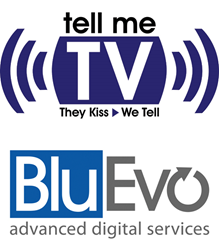 We have worked together to bring the visually impaired community a single location to access movies, documentaries, TV series, and more.
Los Angeles, CA (PRWEB) March 02, 2017
TellMe TV and BluEvo have launched the world's first fully described video on-demand service (VOD), delivering an unprecedented selection of rich audio description entertainment experiences to the American vision-loss community.
Founded by media connoisseur and accessibility advocate Kevin Shaw, who lost his vision at the age of 19, TellMe TV is an exciting new destination that includes a diverse portfolio of movies, television shows and documentaries where 100 per cent of the on-demand programming features audio description.
Partnered with BluEvo, a digital media services and licensing & distribution company, both have worked together to bring the visually impaired community a single location to access movies, documentaries, TV series, and more.
"We are extremely excited to work with TellMe TV and bring this wonderful service to a community that has not been focused on enough," says Paulette Pantoja, President of BluEvo. "Our goals for TellMe TV in the next year will be global so that we can further provide compelling experiences for the visually impaired community".
TellMe TV is compatible with assistive technology and available on any device that has an Internet connection. It offers the over 10 million people who experience vision loss in the United States, easy and affordable access to top-notch entertainment experiences.
"Selective accessibility has always been an issue for the visually-impaired and the community is greatly underserved by TV broadcasters," says Kevin Shaw, founder and president of TellMe TV. "My own personal experience and frustration with the obvious deficiencies in accessible entertainment options, from DVD to VOD, led me to the development of TellMe TV – a one-stop destination that is 100 per cent accessible from the moment you enter the site."
Currently, there are over 150 movies and shows available, accessible through a monthly fee-based subscription at tellmetv.com.
The new website features an easy-to-understand interface to navigate the assistive technology, while providing users a simple sign-up option via credit card. TellMe TV offers search, browse and sort functionality for its vision-loss audience, as well as a mobile-ready interface – with dedicated apps for iOS, TVOS, Android and other platforms to be released in 2017.
About TellMe TV
TellMe TV (formerly Zagga Entertainment Ltd.) is solving the problem of inaccessible media for the vision-loss community to create a more inclusive society. TellMe TV is the world's first fully described video on-demand (VOD) service delivering quality audio description movies, documentaries and television to the vision-loss community via the web, mobile devices, smart TVs and other platforms. TellMe TV is committed to providing great visual storytelling that offers a richer entertainment experience for the vision-loss community. TellMe TV lets users browse, search, watch and receive recommendations for popular movies and TV shows all in one consolidated, easy-to-navigate destination, compatible with assistive technology on the web, iOS and Android devices. Visit tellmetv.com
About BluEvo
BluEvo is a digital media company provider that offers advanced, highly automated solutions for content creators and digital content distributors who are looking to monetize content in the most efficient way possible. BluEvo focuses on four main areas: digital content licensing and distribution, OTT platform development, digital media services, and licensing their proprietary online based software called BluCloud™.
About Audio Description
Audio description narrates on-screen action in between lines of dialog so people living with vision loss can fully experience the scenery, facial expressions and other visual elements of a show or film that aren't communicated by listening just to the soundtrack.