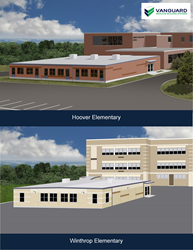 classrooms that will look and feel like conventional construction
DANVERS, MA (PRWEB) March 03, 2017
Vanguard Modular Building Systems, LLC announced today a contract award from Melrose Public Schools, in Massachusetts, for modular classroom buildings to be built at two of the school systems' elementary schools: Hoover and Winthrop.
The off-site constructed modular classroom building at Hoover Elementary will be over 4,500 square feet, and the Winthrop classroom building will be more than 3,000 square feet. The classrooms are being built to alleviate overcrowding concerns at each of the schools.
Permanent modular construction was selected for the classroom buildings, since the building process will create the least amount of school disruption, and because of the compressed construction schedule. The classrooms will provide a high-quality permanent space solution for the students, faculty and staff that will look and feel like conventional construction. The site work is expected to begin in early April 2017, with occupancy anticipated by the middle of August, in time for the start of the 2017-2018 school year.
About Vanguard Modular
Vanguard Modular Building Systems, LLC is a custom modular building dealer supplying temporary and permanent modular classrooms, offices, and specialty buildings to industries including: education, commercial, industrial, healthcare, energy, oil & gas, corrections, government, and more. Our experienced team is uniquely equipped to provide clients with tailored solutions that solve their individual space needs. We offer the flexibility of lease, purchase, and financing options.
Vanguard Modular Building Systems, LLC
Contact
Mark Meyers
Vice President, Marketing Services
(877) 438-8627
mmeyers(at)vanguardmodular.com
http://www.VanguardModular.com
Article: Permanent Modular Construction: Solutions for the Long-Term