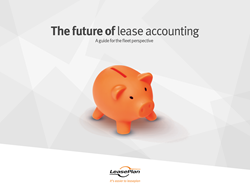 Alpharetta, GA (PRWEB) March 02, 2017
Fleet managers across the country may be aware the new accounting standards, as determined by the Financial Accounting Standards Board (FASB) and the International Accounting Standards Board (IASB), are going into effect shortly.
LeasePlan USA's CFO, Dave Dahm, recently stressed the importance of staying ahead of these changes, which can have significant impact on fleets.
"While fleet professionals aren't going to be leading the charge, they will play a very important part," said Dahm.
According to him, the changes should have little impact on a fleet's overall operations. But, fleet managers should be prepared for the effect it will have on financial reporting.
Dahm offered a basic breakdown on the topic of new accounting standards:
1. Why are these changes happening? The accounting boards want more financial statement transparency for investors (and other readers of financial statements).
2. After more than a decade of discussions, new standards were issued by the International Accounting Standards Board (IASB) and the Financial Accounting Standards Board (FASB).
3. How will this affect companies? Off-balance sheet accounting for lessees will be eliminated.
4. International convergence was not achieved.
5. The benefits of leasing still exist.
6. What can fleet managers do to get ready for the accounting standards changes? Fleet managers can use this checklist to stay on track.
Dahm suggests reading up on this complex subject to ensure companies are making the appropriate adjustments. "If you want to get a better handle on the changes, download the eBook on the future of lease accounting," he offered. "The new rules are going into effect — don't get left behind!"
About LeasePlan
LeasePlan is a global fleet management and driver mobility company. Our global group manages 1.6 million vehicles and provides services in 32 countries. LeasePlan USA prides itself on delivering high-touch service and innovative products that offer total cost reduction for fleets. Our full-service offering consists of financing and operational fleet management services to meet the needs of a diverse client base. With more than 50 years of fleet experience, LeasePlan's experts find ways to get the most out of clients' vehicles, budget and time.