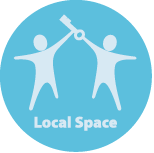 Sir Robin Wales, Mayor of Newham, said: "I am very proud of Local Space's success which we established in 2006 and has seen thousands of homeless families provided with a home".
London (PRWEB UK) 4 March 2017
Local Space, a registered social housing provider now in its 11th year, has retained its high credit rating despite sector wide downgrades in recent times.
Local Space was established in 2006. It owns a portfolio of circa 1,900 units. Last year it began to implement its growth strategy of delivering another 800 properties, to be completed by 2020, in East London and Essex. Local Space specialises in providing temporary housing in the East London area, supported by guarantees from Newham, Hackney and Waltham Forest Councils. It also provides key worker accommodation.
Due to the unique arrangements, it has some of the top operating margins in the sector and ranks in the top quartile of housing associations in terms of financial performance.
The credit rating report states "In our view, Local Space continues to benefit from very strong enterprise and financial profiles, underpinned by a stable profitability margin that is larger than peers. The stable outlook reflects our opinion that Local Space will continue to benefit from revenue growth through long-term leasing agreements, mitigating higher leverage induced by its development plan over the next four years (2017-2020)".
Jitinder Takhar, Local Space's Chief Executive, said:
"We are very proud that in these uncertain, post EU Referendum times, we have continued to hold our position in receiving this top recognition from S&P. We are a unique housing association operating in a particular market. Understanding our clients' needs, meeting those requirements well and our partnering approach has resulted in a sector leading financial performance. Our success in showing continued financial strength demonstrates that value creation is possible in smaller organisations and that there are other social housing delivery models that can also work well."
Joel Inbakumar, Local Space's Finance Director, said:
"We are delighted to have our AA- credit rating reaffirmed by S&P. Our strategy of delivering growth through partnerships with local authorities that give rent guarantees is a unique model within the sector. The rating reflects the low industry risk under which Local Space operates along with its very strong economic fundamentals. The credit rating will help us obtain funding from capital markets at competitive rates and terms that will in turn help us deliver much needed housing for homeless people in Newham".
Sir Robin Wales, Mayor of Newham, said:
"I am very proud of Local Space's success which we established in 2006 and has seen thousands of homeless families provided with a home. The impact of London's housing crisis means we need to be innovative in the provision of affordable homes and Local Space offers a significant solution to this problem. The reaffirmation of the top credit rating demonstrates this unique way of delivering more affordable homes works and this is why last year we approved the Growth Strategy which will see the expansion of Local Space by a further 800 properties. By working together, solid foundations have been established, with a significant portfolio of properties and a top credit rating, on which Local Space can continue to build."
For more information please contact:
Joel Inbakumar
Finance Director
Local Space Ltd
Tel: 0208 221 4000
Email: joeli(at)localspace.co.uk
Website: http://www.localspace.co.uk