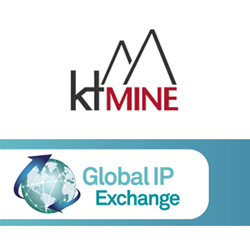 Chicago, IL (PRWEB) March 02, 2017
ktMINE an intellectual property (IP) information services firm, announced today that their President and CEO, David R. Jarczyk, and Senior Program Manager, Eric Podlogar, will be a speaker at the Global IP Exchange taking place on March 6th to 8th, 2017, in Berlin. The ktMINE roundtable discussion will be on, "Top 5 Ways to Strengthen Your IP Position". The invitation-only meeting will bring together 120 senior IP decision makers who are looking to discover the strategies, solutions and innovation that will unlock the true potential of their IP portfolio and safeguard their assets against infringement.
ktMINE's presentation will be taking place on Tuesday, March 6th, 2017 at 12:00PM -1:00PM as a roundtable discussion. The presentation will explore what levers you can exercise to ensure that your IP position is protecting your business such as: Investigating technologies that are being developed, have transacted in the marketplace, or have been licensed; Investigating emerging brands; and Investigating Who's Participating in the Market. It will also highlight data sources of available IP information and industry case studies.
This will be the 8th Global IP Exchange and will feature case studies, lively panel debates, peer sharing discussions, interactive BrainWeave sessions and one-on-one business meetings. Directors of IP, heads of patent, trademark, brand protection, anti-counterfeiting and a selected group of innovative solution providers, will come together to:

Discover what strategies and solutions other companies are adopting
Develop new business partnerships through interactive networking opportunities
Participate in intimate working groups with senior peers to develop new strategies
About ktMINE
ktMINE, headquartered in Chicago, IL, is an intellectual property information firm founded in 2008. Focused on minimizing research time, maximizing analysis power, and strengthening business decisions, ktMINE provides businesses across the globe access to insights on industry players, technologies, and developments. For more information, visit http://www.ktmine.com, or contact ktMINE to schedule a meeting.