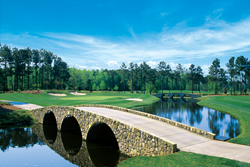 If they choose the Azalea Golf Package, they can enjoy the massive blooming azaleas at the Litchfield, Willbrook and Tradition courses.
Myrtle Beach, SC (PRWEB) March 02, 2017
April is the time to get swinging with golf packages offered by Myrtle Beach Golf Trips, the Grand Strand company that has been putting together great golf experiences since 1927. As the golf season bursts into full bloom this April with The Masters Tournament, golfers can begin to master their own 2017 games through the Azalea Golf Package or the April 2-Round Package.
Both packages include award-winning Myrtle Beach courses at the lowest rates that will be offered for spring.
The April 2-Round Package offers golfers the opportunity to play two or more rounds of golf and receive discounts at 22 of Myrtle Beach's favorite designs, called the Founders Collection. Some of the most popular courses include Myrtle Beach National King's North, an Arnold Palmer-designed classic; TPC Myrtle Beach, a Tour-caliber course with great practice areas; and River Club, which earned 4.5 out of 5 Stars from Golf Digest's "Places to Play." Each golfer will save $5 per round for tee times before 8:30 a.m. and after 1 p.m. This package includes rates starting as low as $78. The April 2-Round Package is valid during the month of April.
Available from April 3 to June 4, the Azalea Golf Package allows players to enjoy championship golf courses at special prices, as well as spectacular azaleas in bloom and the Lowcountry's own version of The Masters' signature pimento cheese sandwiches. This three-round package starts at $178 and includes tee times booked before 8 a.m. or after 1 p.m. at Litchfield Country Club, Willbrook Plantation Golf Club and Tradition Golf Club courses in Pawleys Island, S.C.
"These packages offer the opportunity to take advantage of warm weather and the lowest spring prices we'll be offering," said Steve Mays, director of marketing and sales for Founders Group International, owner of Myrtle Beach Golf Trips. "With nearly 100 courses, golfers can select from a wide variety of award-winning courses. For example, the April 2-Round package gives them the opportunity to get a taste of The Masters Tournament at World Tour. That's where they'll find a course that pays tribute to some of the greatest holes in golf, including Augusta's iconic 'Amen Corner.' If they choose the Azalea Golf Package, they can enjoy the massive blooming azaleas at the Litchfield, Willbrook and Tradition courses. Or they can book both packages back to back and enjoy an extended golf vacation at the spring's most affordable rates."
Litchfield Country Club was selected as the 2016 Golf Course of the Year by the Myrtle Beach Area Golf Course Owners Association. It's easy to see why. The course is a classic design that is one of the most popular golf courses along the Grand Strand. Built on the site of a former rice plantation 50 years ago, Litchfield Country Club has an antebellum-style clubhouse surrounded by massive azaleas. It is one of the oldest courses in the Lichfield/Pawleys Island area, and is one of ten layouts etched into a historic peninsula of land that is now home to the Waccamaw Golf Trail which runs between the Waccamaw River and the Atlantic Ocean.
Also built on the former site of a historic rice plantation, Willbrook Plantation Golf Club offers more than just 18 holes of lush fairways. Weaving among moss-draped, centuries-old live oaks and beside beautiful marshlands, Willbrook is accented by large azaleas and other blooming plants. Historic markers along the course tell the story of Willbrook, enhancing the golf experience. The course is also home to a beautiful array of waterfowl and other wildlife that can be spotted during a round.
Named the South Carolina Golf Course of the Year in 2000, Tradition Golf Club has a creative yet simple design and well-protected greens also built on the site of a former rice plantation. Routinely honored by regional and national publications, Tradition boasts a best-in-class Mega Practice Complex to help golfers tune up their games.
More information about The Azalea and April 2-Round Packages are available at MyrtleBeachGolfTrips.com or by calling 800-882-3420 to book tee times now.