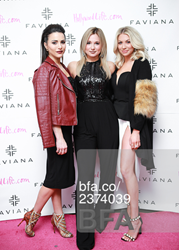 New York, New York (PRWEB) March 02, 2017
Faviana's high caliber influencer & celebrity event held on Sunday, February 26th in New York brought together the most influential at the East Coast's premiere event.
There were many notable celebs in attendance including:
Andi Dorfman - The Bachelorette
Stassi Schroeder - Vanderpump Rules
Kristen Teakman - Real Housewives of NYC
Sonja Morgan - Real Housewives of NYC
Dolores Catania - Real Housewives of NJ
Elisa Johnson - Rich Kids of Beverly Hills, Magic Johnson's Daughter
Samaria Smith - LL Cool J's Daughter
Violetta Komyshan - NYC Ballerina, Dating Ansel Elgort
Lauren Wirkus - Bravo's Summer House
Amongst many others from shows such as The Bachelor, Vanderpump Rules, and Real Housewife Franchise.
These celebrities helped celebrate the East Coast's premier Oscars Red Carpet Viewing Party on the rooftop lounge at 75 Wall Street. The question no longer stands, "What do fashion's influencers do on Oscar's night" because they all gathered at the Faviana Clubhouse to chat about the trends and who they couldn't wait to see on the red carpet!
The trend spotting & opinions about the Oscars red carpet weren't the only things happening that night - Check out what these celebrities were spotted wearing to the Faviana Clubhouse here: BFA !
(I'd be happy to share any of these images with you upon request.)
I would love to talk more about these celebs in attendance and share some of the chatter and gossip that was going down at the event.
If you are interested in writing a quick story we are simply requesting the following online link mentions: "Faviana" >> http://www.faviana.com and / or "Evening Dresses" >> https://faviana.com/dresses-by-event/by-color/evening-dresses.html
Please don't hesitate to reach out for any additional information or questions regarding the event. You are welcome to give me a call at 212-594-4422 Ext. 120. I'm looking forward discussing this more!
#FavianaClubhouse | @Faviana_NY