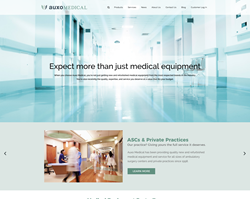 The new website provides a 360-degree view of Auxo Medical's services from a customer-centric perspective.
Richmond, VA (PRWEB) March 06, 2017
Auxo Medical, LLC, a leading refurbished medical equipment supplier based in Richmond, Virginia, announced today that it has launched a new-and-improved website — auxomedical.com.
"The new website provides a 360-degree view of Auxo Medical's services from a customer-centric perspective," said Tanner Seese, Auxo Medical's Director of Sales. "Regardless of a healthcare facility's specific problem or need, our website guides the customer to a resource that can provide a solution."
The new website has been designed to provide new and existing customers with a user-friendly experience that mirrors and reinforces the company's overall dedication to excellent customer service. An integral part of that dedication is the addition of a login portal, which allows customers to view and update their account information as well as check the status of equipment and service orders.
Through improved navigation and functionality, Auxo Medical's website allows customers to easily and quickly browse its inventory of new and refurbished medical equipment, as well as access detailed product information and technical data.
Created with a focus on user experience, the website was designed using the latest technology so the site is compatible with the widest array of web browsers and devices, including mobile technology like smartphones and tablets.
The site also includes a blog, which will host a variety of articles on industry news, featured products, and upcoming training session, as well as an easy-to-use section featuring Auxo's numerous services and financing options.
About Auxo Medical
Auxo Medical, LLC is a medical equipment supplier located in Richmond, Virginia that specializes in refurbished and reconditioned medical equipment. Auxo Medical provides the personal service most expect from a small business, but with several of the benefits that larger medical suppliers also provide. The company regularly works with ambulatory surgery centers, hospitals, laboratories, private physician practices, and more. Learn more at auxomedical.com.
About Madison+Main
Madison+Main is an award-winning brand communications firm and, simply put, we believe that Bold Brands Win. Clients include Auxo Medical, the Better Business Bureau, CowanGates, Cudas, Dale Carnegie Training, The Dragas Companies, FC Richmond, Guided Discoveries, Lightning Protection Institute, Marketplace Events, Mavalério, The National MS Society, New Kent Winery, Richmond International Raceway, Swift Creek Mill Theatre, Swaders Sports Park, Synalloy, Virginia's Office of the Attorney General, Virginia Energy Sense, Yard Works, and many others. The firm is based in Richmond, Virginia, with an additional office in Blacksburg, Virginia. Learn more at madisonmain.com.