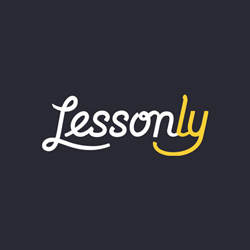 "The breadth and depth of knowledge and experience that Zoe, Kyle, and Megan bring to our team is incredible. Their impact on Lessonly is a big win for our customers, company, and city." — Max Yoder, Lessonly CEO
Indianapolis, Indiana (PRWEB) March 02, 2017
Lessonly, the leading team learning software, today announced the hiring of three key positions to its leadership team, including Zoe Meinecke as Director of Services, Megan Jarvis as Director of Talent, and Kyle Lacy as Vice President of Marketing. Over the last 12 months, Lessonly has added more than 40 new hires and continues to build out its presence in Indianapolis on the heels of a Series A funding.
"The breadth and depth of knowledge and experience that Zoe, Kyle, and Megan bring to our team is incredible; it's a true privilege to work alongside them," said Lessonly CEO Max Yoder. "Their impact on Lessonly is a big win for our customers, company, and city."
Megan Jarvis joins Lessonly with 10 years of experience in human resources, most recently with Apparatus Infrastructure Services. At Lessonly, Megan will focus on developing and executing talent development strategy for the rapidly growing team.
Zoe Meinecke brings to Lessonly more than 11 years of broad functional experience supporting global customers across a range of industries. Most recently, she acted as Managing Director of the knowledge transfer firm, Base Advantage, LLC. At Lessonly, Zoe will build and manage the company's Services offering.
Kyle Lacy comes to Lessonly with over 10 years of experience in marketing, strategy, and digital operations, recently holding senior positions at OpenView Venture Partners, Salesforce and ExactTarget. In this new role, Kyle will oversee Lessonly's brand development, marketing, and digital strategy.
Currently, Lessonly seeks additional experienced account executives to join its team, with additional current openings highlighted on its Careers page.
About Lessonly
Lessonly is modern learning software used by over 350 teams to translate important work knowledge into Lessons that accelerate productivity. More than 500,000 learners at companies like Birchbox and Trunk Club trust Lessonly to do better work. Sales and support teams around the world use Lessonly's software to transform work knowledge, engage their teams, accelerate employee performance, and measure the business impacts of team learning. Lessonly is backed by some of the nation's leading venture capital firms, including OpenView Venture Partners and High Alpha Capital.
Learn more at Lessonly.com.
Follow us on Twitter at @Lessonly and like us on Facebook at facebook.com/lessonlyapp.