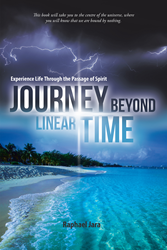 TORONTO (Marc (PRWEB) March 06, 2017
A Toronto-area author has released his debut guide to reaching a deeper knowledge of truth and raising the human level of consciousness. Raphael Jara, who was born spiritually awake, offers an intimate exploration of the human spirit that travels beyond the confines of the physical human body in his new book, titled "Journey Beyond Linear Time."
In the book, Jara puts forth the notion that human beings are not just their bodies, but rather the light that animates their physical forms to life. Without this light, Jara says, human bodies would merely be empty shells.
"There is much more to life than is suspected, and to know who we are, where we come from and the reasons for our being, we must evolve ourselves individually," Jara said. "To do this requires courage and will. As you grow in consciousness, you will also reach a deeper truth of the universe."
Through a set of simple exercises, "Journey Beyond Linear Time" seeks to take readers beyond their physical forms and toward a spiritual realization of one-ness with the universe, existence and all of humanity.
"Journey Beyond Linear Time"
By Raphael Jara
ISBN: 9781504366861 (hardback); 9781504366854 (paperback); 9781504367028 (electronic)
Available at the Balboa Press Online Bookstore, Barnes & Noble and Amazon
About the author
Raphael Jara was born spiritually awake. He attended university at the early age of 13, has two decades of experience in information technology and spent several years as an architect. He currently resides in the Toronto area.
###
Review Copies & Interview Requests:
LAVIDGE – Phoenix
Danielle Grobmeier
480-998-2600 x 614
dgrobmeier(at)lavidge(dot)com
General Inquiries:
LAVIDGE – Phoenix
Maggie Driver
480-998-2600 x 584
mdriver(at)lavidge(dot)com