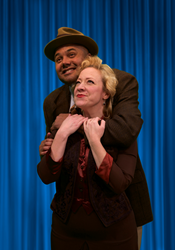 Salt Lake City, Utah (PRWEB) March 03, 2017
The Grand Theatre, at Salt Lake Community College's South City Campus, is proud to present A Streetcar Named Desire, Tennessee Williams' immortal classic, as part of it's American Classic Series. The show runs March 16 - April 1.
The Pulitzer Prize winner for Drama in 1948, the story centers around Blanche DuBois, Stella Kowalski, Stanley Kowalski and Mitch. Blanche is broke and, after losing her family home, is left with no choice but to move in with her sister Stella and her husband in New Orleans. While there she meets Mitch, a friend of Stanley's for whom she quickly begins to have romantic feelings. As the show progresses we discover secrets from Blanche's past and a sinister side to Stanley. It's a tragic story of love, loss, passion and guilt.
The production features a cast of 12, including local professional actor Robert Scott Smith. Please, join us for this American masterpiece. Tickets are on sale now at http://www.grandtheatrecompany.com or at (801) 957-3322.
The landmark Grand Theatre is a 1,100-seat venue located at Salt Lake Community College's historic South City Campus, home of the innovative and state-of-the-industry Center for Arts and Media at 1575 South State Street in Salt Lake City. The theatre dates back to the 1930s when it was part of South High School, which SLCC purchased in 1989, a year after the school closed. The Grand Theatre began offering productions that year and has since with great care and expense retained its Depression-era charm and attraction while also incorporating the latest technology in lighting and sound. For the past three years it has been an official screening venue for the annual Sundance Film Festival. Every season the Grand is host to award-winning theatre and dance productions and concerts that attract arts enthusiasts from all along the Wasatch Front.