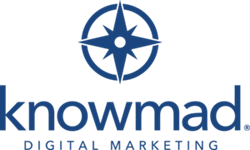 Whenever we're recognized for an honor like this, it's always a group effort.
Charlotte, NC (PRWEB) March 07, 2017
Local digital marketing agency Knowmad was recently recognized as one of the Top Web Designers in Charlotte on UpCity's influential website.
While Knowmad offers a variety of digital marketing services, Diona Kidd, the company's COO and co-founder, definitely considers website design as one of their specialties.
"We were established in 2002, so we've seen a lot of change online," said Kidd. "Making this list is important to us because it means we're staying ahead of the curve when it comes to helping our clients be as successful as possible."
According to Kidd, the company's inclusion in the list is a testament to the entire Knowmad team.
"Whenever we're recognized for an honor like this, it's always a group effort," said Kidd. "I know I'm fortunate to work with one of the best digital marketing teams in Charlotte, and I never take that for granted."
UpCity consists of a group of marketing executives that have worked at some of the world's most-respected brands, specializing in helping small and mid-sized companies with their inbound marketing efforts. The company makes their "top" picks based on how well Charlotte companies represent themselves online; the qualifications range from the user experience of the company's website to their social media presence and prominence in organic search results.
Located in Charlotte, NC, Knowmad is a boutique digital marketing agency that works with clients of various sizes across the United States and Europe to increase their visibility, grow their brands, and attract new customers. Their clients can be found in a wide range of industries and organizations, including manufacturing, B2B services, consumer services, and technology. Knowmad's services include inbound marketing, custom website design, search engine optimization (SEO), pay per click management, and content marketing. To learn more, visit http://www.knowmad.com or call 877-898-3403.