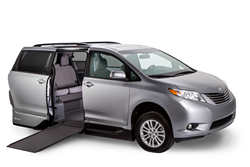 We are proud to provide wheelchair accessible solutions to improve the quality of life for others.
Cheyenne, WY (PRWEB) March 07, 2017
Vantage Mobility International (VMI) announced today that Michael Gallagher of Wellington, CO. was selected as the winner of the company's Claim More Space Sweepstakes, in which there were more than 7,000 entries nationwide. He will be receiving a check for $10,000 and a year's supply of gasoline valued at another $1,000. Gallagher purchased a VMI NorthstarTM side-entry in-floor conversion for wheelchair access for his 2016 Toyota Sienna. Gallagher, 72, who suffers from degenerative spine disease, discovered the contest when searching online for mobility and wheelchair-accessible transportation solutions. He and his wife of 50 years, Lorene, previously had purchased a very used van with a lift system that, as he put it "began to cost more to maintain than it was worth."
The Toyota Sienna features a power in-floor wheelchair ramp that allows Gallagher easy access to enter the van. It also has a wheelchair tie-down system, quick release front seats and a lowered floor for maximum headroom which enable him to ride along side Lorene as a front seat passenger in his wheelchair while she drives. Gallagher says his family has enjoyed a good history with Toyota and the dependability of the product over the years. "It was awesome in our minds to find the same kind of quality and dependability in a ramp matched for the vehicle. Independence is buying something good that will last," he adds. VMI holds a Gold-Star quality rating with Toyota.
Gallagher, a U.S. Army Veteran who served in the Military Police with a tour in Vietnam in the early 70s, describes himself as a servant. When he returned to civilian life, he was a policeman for 20 years, a firefighter for another 22 years, an EMT, city councilman and Mayor of Minturn, Co. On the advice of physicians the Gallaghers left their hometown of Minturn for the lower altitudes of Wellington. He continues to serve his community as a deacon in their church.
"We are proud to provide wheelchair accessible solutions to improve the quality of life for others. In Michael's case, being the VMI Claim More Space Sweepstakes winner, the dependability of the conversion provides him with the freedom to travel and live to the fullest," said Doug Eaton, VMI president and CEO.
The check presentation will take place at 11 a.m., Tuesday, March 7th at Frontier Access & Mobility in Cheyenne, Wyoming.
About VMI
Vantage Mobility International (VMI) is a leading manufacturer of wheelchair accessible vehicles built on Toyota, Honda, and Fiat Chrysler Automobiles (FCA) minivans. It has advanced the mobility industry for 30 years with a robust portfolio of power and manual ramp conversions and platform lifts. VMI is based in Phoenix, Arizona where its manufacturing facility utilizes Six Sigma techniques to employ continuous process improvements and deliver high quality products for personal use and commercial applications. For additional information, contact Penny Malone at VMI 602-243-2700 or visit http://www.vmivans.com.