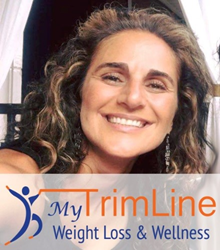 Lemoyne, PA (PRWEB) March 02, 2017
Eating healthy should not be boring. Nadia broadcasts from ABC 27 on Good Day at 12:30, every other Wednesday. Nadia and Chef Wes cooked up a very healthy and tasty dish on February 1, 2017. Watch our YouTube video from that session by clicking the link below and learn neat tricks on how to cook like a mini-chef. Let's LOVE what we eat. Tastefully Fit, TrimLine approved. https://www.youtube.com/watch?v=gchlrXtAhMI
Nadia had her debut TV broadcast from ABC 27, on October 6, 2016. She successfully featured a 'Ladies Night' evening special with a cooking segment.
Moving forward, Good Day PA will continue to use Nadia as the show's Nutritional Consultant airing every other Wednesday from 12:30pm – 1:00 pm.
MyTrimLine is not a fad diet. There's no pre-packaged meals and no group meetings. This is not a liquid diet and not a plan that is followed for 1 or 2 months and then quit because it does not fit into a clients' lifestyle. MyTrimLine is a program that will teach customers the secrets of losing weight and keeping it off.
MyTrimLine Weight Loss and Wellness provides a professional and motivating atmosphere for weight loss & wellness in the Camp Hill, Harrisburg, York & Lancaster areas as well as Online. One-on-one counseling will help keep clients' weight loss goal on track. Personalized sessions focus on eating the foods clients love while still maintaining healthy eating habits along with the maintenance that will lead to long-term success.
Nadia Sharifi-Rousselle is the creator, designer, owner and operator of TrimLine Weight Loss Centers, founded in 2009. The growth and success of her family owned business is not only due to her education and experience, but her deep rooted passion and empathy extending from her own personal battle and struggles with weight loss. Nadia successfully lost over 50 lbs. through nutrition and has maintained her weight loss for over 20 years with her own proven maintenance program.
Read more: http://whp580.iheart.com/articles/my-trimline-with-nadia-473880/n-a-11289344/
For more information visit MyTrimLine Weight Loss and Wellness website: http://www.mytrimline.com