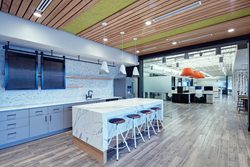 The new Center is designed to accommodate MSI's continual growth, it's one of the largest facilities of its kind in the industry.
Orange, CA (PRWEB) March 06, 2017
MSI has built a new, state-of-the-art Innovation Center for its National Marketing & Merchandising Team. Growth of the Team, company-wide expansion, and an enhanced focus on marketing and merchandising prompted investment in the Atlanta, Georgia facility.
The Center houses MSI's marketing, trend and design, web, digital and social media, merchandising, and channel-focused teams. Designed to accommodate MSI's continual growth, it's one of the largest facilities of its kind in the industry — with enough space to more than double the size of the National Marketing & Merchandising Team. The Center exemplifies MSI's commitment to backing its products with industry-leading physical — and virtual — marketing and merchandising solutions, and includes significant warehousing space for sampling, displays, product reviews, and display board construction.
Several progressive design elements, including the extensive use of glass, high efficiency LED lighting, and abundant natural light, were incorporated into the space. Casual seating areas encourage impromptu meetings, and a training room is available for planned events like conferences, staff roundtables, and customer presentations. MSI flooring, countertops, decorative mosaics and wall tiles, as well as hardscaping products are used extensively throughout the Center, both highlighting the brand's versatility and allowing company associates to get hands-on with a breadth of MSI products.
At the hub of the new office is an open-concept workspace designed to stimulate creativity, innovation, and collaboration. Workstations have low partitions and office suites are clad in glass to further facilitate communication. Al Pacheco, VP of Marketing at MSI, comments on the innovative design, "Our Team is already capitalizing on the open-concept workspace and enjoying new levels of success. What's more, we anticipate that the modern, collaborative nature of the space will help us attract and retain the industry's top talent." He adds, "This office symbolizes the MSI brand. It's modern and high-tech, yet recognizes that strong relationships — both among our associates and with our clients — are critical to long-term success."
Founded in 1975, MSI is the leading supplier of Premium Surfaces including flooring, countertops, decorative mosaics and wall tile, and hardscaping products. MSI's product offering includes an extensive selection of granite, marble, porcelain, ceramic, quartz, glass, quartzite, and other natural stone products. Headquartered in Orange, California, MSI also maintains distribution centers across the United States and Canada. MSI's product line is imported from over 36 different countries on six continents bringing the very best products to the North American Market. The company maintains an inventory of over 125 million square feet of material.
For more information on MSI, visit: http://www.msistone.com