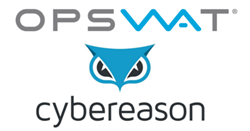 The addition of OPSWAT to Cybereason's intelligence base and platform gives security teams the best possible chance to detect and understand the context of attacks, so they can respond quickly and effectively.
San Francisco, CA (PRWEB) March 03, 2017
OPSWAT, Inc., provider of solutions to secure and manage IT infrastructure, today announced that it has signed an OEM agreement with Cybereason, developers of the most effective Total Endpoint Protection Platform, including EDR & Next-Gen AV. Cybereason will add OPSWAT's Metadefender Cloud (Commercial Edition) to the Cybereason's intelligence base, which analyzes submitted files for threats, increasing the malware detection rate.
Metadefender Cloud leverages signature and heuristic scanning from multiple anti-malware engines. Integrating Metadefender Cloud's industry-leading threat intelligence with the easy-to-use Cybereason Platform results in highly accurate malware detection, enhancing endpoint prevention.
Additionally, Metadefender Cloud provides detailed reports to users about which engines detected which threats. Anti-malware engines that participate in the commercial version of Metadefender Cloud receive royalties based on customer usage, as part of the OEM agreements between OPSWAT and the commercial engine partners. OPSWAT also offers a free demo version of Metadefender Cloud for limited, non-commercial usage.
Metadefender Cloud, an application and threat intelligence platform, uses next-generation Content Disarm and Reconstruction (CDR) engines, OPSWAT's Vulnerability Engine (patent pending), and multi-scanning technologies to analyze all submitted files for threats and potential risks. In addition to analyzing files, Metadefender Cloud can perform analysis on a hash, checking for threats, known vulnerabilities, and application reputation information.
Cybereason believes the key to stopping adversaries is behavioral analysis that enables early detection and response. Detection is the driving force enabling all other security activities to take place, including execution prevention, blocking, investigation, forensics and response.
Cybereason excels at detection because the solution is focused on collecting and analyzing behavioral data. It's the best source of primary data for understanding what is really happening within the enterprise. Cybereason also has a core competence in effective, centralized analysis at scale. Instead of individual machines defending themselves with a fraction of their capacity, Cybereason enables enterprises to use the entire endpoint ecosystem as a defense mechanism with all endpoints working together to protect the organization.
Benny Czarny, CEO and Founder of OPSWAT, said, "We are very excited to partner with Cybereason, a leader in the EDR space. We've invested a lot into building our Metadefender Cloud threat intelligence platform. We released the commercial version of Metadefender Cloud in fall 2016, and the fact that we're already able to partner with companies like Cybereason is very gratifying because it means that the market leaders are already recognizing our product's quality."
Sam Curry, Cybereason's Chief Product Officer, said "Security teams need to be able to maximize their ability to detect threats and to understand the potential impact to their organizations. The addition of OPSWAT to Cybereason's intelligence base and platform gives security teams the best possible chance to detect and understand the context of attacks, so they can respond quickly and effectively."
About Cybereason
Cybereason is the leader in endpoint protection, offering endpoint detection and response, next-generation antivirus, and managed monitoring services. Founded by elite intelligence professionals born and bred in offense-first hunting, Cybereason gives enterprises the upper hand over cyber adversaries. The Cybereason platform is powered by a custom-built in-memory graph, the only truly automated hunting engine anywhere. It detects behavioral patterns across every endpoint and surfaces malicious operations in an exceptionally user-friendly interface. Cybereason is privately held and headquartered in Boston with offices in London, Tel Aviv, and Tokyo.
About OPSWAT
OPSWAT is a San Francisco-based cybersecurity software company that provides solutions to secure and manage IT infrastructure. Founded in 2002, OPSWAT has delivered solutions and technologies that protect organizations from threats and secure digital data for over a decade. OPSWAT's Metadefender platform is used by thousands of customers in defense, government, finance, critical infrastructure, and other industries, and its OESIS Framework endpoint security SDK has helped secure over 200 million endpoints. To learn more about OPSWAT, visit OPSWAT.com.