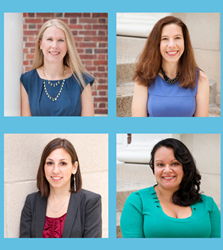 Amy, Kristina, Christine, and Monique have been instrumental in the success of Zeldis Research. -Doris Kaiser, Zeldis Partner
Ewing, NJ (PRWEB) March 03, 2017
Zeldis Research Associates, a leading custom market research firm, today announced four executive promotions and organizational changes effective immediately.
Amy Rey and Kristina Witzling, Vice Presidents, were each promoted to the newly created position of Executive Vice President. Christine DiMeola, most recently a Senior Research Director, has been promoted to Vice President. And Monique Corchado, previously Manager of Finance & Administration, was promoted to Director, Finance & Administration.
"Zeldis has experienced unprecedented growth over the past two years. Amy, Kristina, Christine, and Monique have been instrumental in the success of Zeldis Research and we are proud to recognize their contributions to our collective achievement with these promotions. Each of them will continue to aid in our development by continuing to contribute their stellar leadership qualities," said Doris Kaiser, Zeldis Partner. "We're looking forward to the continued value they bring to Zeldis as we move forward."
About Zeldis Research Associates
Since 1991, Zeldis has been designing customized market research to help clients better understand their customers. Integrating qualitative, quantitative and advanced analytic approaches as appropriate, Zeldis delivers the precise results clients need. The firm has both broad and deep expertise in a wide variety of industries, including insurance, financial services, pharmaceuticals and healthcare, education, publishing and digital media.
For more information, visit http://www.zeldisresearch.com