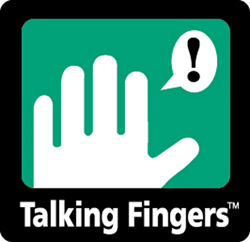 This is technology at its best.
San Rafael, CA (PRWEB) March 23, 2017
Talking Fingers Inc. joins with Clever Inc. to make it easy and fun to learn to read, by merging its evidence-based early literacy software with Clever's single sign-on solution for schools.  Clever will enable Talking Fingers software to be more easily and quickly accessible to schools and districts with licenses for 100 or more students. Clever's single sign-on solution syncs with a school or district's student information system to provide a seamless experience for school district administrators, teachers, and students alike, saving precious time and resources. Now that Congress has passed the Every Student Succeeds Act (ESSA) requiring school improvement plans to include "evidence–based" programs, the Talking Fingers programs (all funded by the National Institute of Child Health and subjected to rigorous research), will be in even greater demand as schools look for Clever-enabled programs.
"This is technology at its best," said Dr. Jeannine Herron, founder and CEO of Talking Fingers. "Because our focus is early literacy software for grades PreK- 4. We're particularly excited about 'Clever Badges,'" she added. "The badges make it easy and fun for younger students to log in to our web-delivered supplementary curriculum."
"We're also thrilled about this partnership because the staff at Clever is as passionate about educational software and respectful of its history as we are.  We only wish they'd been around when we first launched the online version of our flagship software, Read, Write & Type, in 2007."
"It's our job to make learning easier through technology and educational apps, and we are honored to add Talking Fingers to our roster," said Clever CEO and co-founder Tyler Busmeny.
About Dr. Jeannine Herron and Talking Fingers:
Jeannine Herron is a research neuropsychologist who became interested in reading-related research in 1965 when she was co-founder and program director of the first Head-Start program in the nation—the Child Development Group of Mississippi, serving 5,000 children. She received her PhD. from Tulane Medical School and went on to do extensive neuroscience research in brain organization and dyslexia at the University of California, San Francisco. For more than 25 years, Dr. Herron and her company, Talking Fingers, have designed, developed and researched early reading and spelling software, Read, Write & Type (for grades K-2) and Wordy Qwerty (for grades 2-4), with grants from the National Institute of Child Health and Human Development (NICHD). Voice-over help in nine languages makes Read, Write & Type an easily accessed online product for students learning English as a second language. Another grant from NICHD funded a collaboration on a product called SmartCycle, licensed to Fisher-Price, which became their "Toy of the Year" in 2008.
Talking Fingers programs are based on a simple idea: text is speech made visible! We use our mouths to talk, to make the sounds of words. We use our fingers (with a pencil or keyboard) to represent those sounds on paper. When children learn to link speech sounds with letters, they can write any word they can say. Their fingers are "talking!" For more information, visit http://www.talkingfingers.com
About Clever:
Clever was founded in 2012 by educators and technologists who knew that widely available educational apps could improve both teaching and learning, but that tools to deploy and secure the applications were simply unavailable. Today, almost half of the K-12 schools in the U.S. trust Clever to secure their student data as they adopt learning apps in the classroom. In 2014, Clever won the 'Crystal Clear' award by the Digital Innovation Learning Awards. It is also the trusted provider of the American Federation of Teachers, who uses Clever to secure its own 'Share my Lesson' platform with its teacher members. Backed by Sequoia Capital, Light speed Partners, Peter Thiel's Founders Fund, and GSV Capital, Clever currently has 100 employees and is based in San Francisco, CA. For more information visit http://www.clever.com