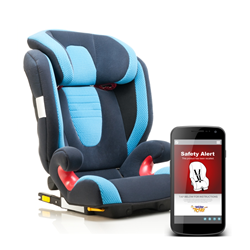 Innercell technology saves lives by delivering critical product information directly through the products themselves, never to be lost, misplaced or thrown away.
LOS ANGELES,CA (PRWEB) March 04, 2017
A wireless network platform being tested by manufacturers to permanently encode safety information into their products was unveiled by technology start-up Innercell at the recent International Consumer Product Health and Safety Organization Symposium (ICPHSO) in Orlando.
The system utilizes Near Field Communication (NFC), a hardware feature built into most modern smartphones. This is the same technology that facilitates retail payments, such as Android Pay and Apple Pay.
Unlike payment systems however, Innercell does not require users to purchase an app or download special software in order to access content encoded into their products. The Innercell service delivers information automatically and for free, through the pre-installed mobile browser built into the consumer's phone.
When a consumer places a smart phone in close proximity to a product's embedded NFC chip, the phone springs to life, delivering text content, diagrams, photographs and videos associated with that product.
The exact location of the chip is identified by the presence of an Innercell sticker or symbol that has been embossed into the product's plastic enclosure.
"By encoding the information directly into product containers and enclosures, critical safety advice is never lost, thrown away or misplaced," says Dan Jordan, an inventor and the co-founder of Innercell. Content for warranty cards, manuals and even recall information related to a product can be conveyed to the consumer at any time, via the attached Innercell tag.
Logging into Innercell's web portal, manufacturers can quickly change and update the information broadcast about their products. The information can be made to display operating instructions, updated cautions and warnings or can be configured to announce a time-sensitive product safety issue.
Innercell Co-Founder and inventor, Dan Jordan, describes his technology as, "important and urgently necessary. Information critical to the use and function of a product should never be lost or thrown away. With Innercell, product instructions and recall information can be permanently connected to the products they serve," Jordan said.
Simply put, "A product and its information never need to be separated," Jordan adds. He predicts use of NFC will grow rapidly over the next several years as technology dramatically enhances customer experiences and customer service.
###
About Innercell
Innercell, headquartered in Los Angeles, California, has developed a number of retail applications for Near Field Communication (NFC) and other proximity-based mobile technologies. Innercell's patent-pending technology gives brands the ability to engage with consumers, protect against counterfeits and deliver safety and recall information directly through the products themselves.
For more information about Innercell or parent company, Twych Innovation, call 818-527-2127 or visit Innercell on the web at http://www.innercell.net.