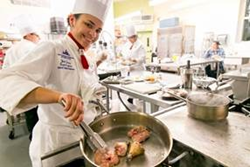 This is the second year in a row that a CINY student earned the Northeast Regional "Student Chef of the Year" title and CINY's third straight year competing at nationals in this category.
New Rochelle, NY (PRWEB) March 03, 2017
Monroe College, a national leader in educating urban and international students, today announced that Yudelka ("Yudi") Torres, a student in its Culinary Institute of New York (CINY), was named the "Northeast Region Student Chef of the Year" at the American Culinary Federation's Northeast Regional Championship in New York this week.
Ms. Torres' winning "Tasting of Farmed Idaho Brook Trout" dish featured a seared filet with braised baby fennel, olive oil poached tomatoes, tourné potato, and a hearty Caldeirada sauce, accompanied by a delicate trout in puff pastry with spinach and mushrooms and a lemon emulsion. The third component was a trout and bacon mousseline-stuffed shrimp, with parmesan tuile and a shrimp-flavored arborio purée.
As winner of the regional title, Ms. Torres will advance to the national "Student of the Year" competition to be held in Florida next July. There she will compete against three other regional winners. This is the second year in a row that a CINY student earned the Northeast Regional "Student Chef of the Year" title and CINY's third straight year competing at nationals in this category. In 2015, a CINY student was invited by judges to compete as that year's "wild card" participant.
"Yudi is incredibly talented in the kitchen and by far the most accomplished competitor we've ever had at CINY," said Frank C. Costantino EdD CEC CCE AAC, Dean of Monroe College's School of Hospitality Management and the Culinary Arts, which houses CINY. "Eight gold medals, numerous 'best of shows', and a team gold medal won at nationals last year are just a few of her stellar accomplishments. We congratulate her on this latest accomplishment, and share in her excitement at advancing to nationals."
Maria Wu, a 2014 graduate of CINY, was named at the same event as the "Pastry Chef of the Year" in the professional category. The White Plains, NY resident is employed in the pastry kitchen of the Ritz-Carlton Hotel in Westchester, NY. She, too, will advance to the national competition this summer at Disney's Coronado Springs Resort.
The Culinary Institute of New at Monroe College is an award-winning, nationally recognized culinary institute that provides students with a combination of theoretical education and hands-on experience in culinary arts, pastry arts, and hospitality management. With facilities designed to simulate the kitchens of restaurants, hotels, and large production operations, students receive personal instruction and mentorship from a faculty of ACF-certified chefs and experienced industry professionals who are committed to their success. CINY has been ranked one of the top 10 culinary schools in the Northeastern U.S. and in the top 20 nationwide.
Since 2009, the program has produced award-winning culinary teams, students, faculty and staff, as well as a critically acclaimed student-run restaurant, The Dining Lab, which was deemed a "training ground for students" by The Wall Street Journal and "the little kitchen that could" by The New York Times. Its culinary competition team was named New York State Champions for two years running and has won more than 680 ACF medals. More information, including admissions criteria, is available online.
ABOUT MONROE COLLEGE
Founded in 1933, New York-based Monroe College is a nationally ranked private institution of higher learning with a student-centric learning approach that prioritizes hands-on academic experiences, practical and relevant academic programs, flexible learning schedules, best-in-class instructional technologies, and committed and engaged faculty to ensure that students are well positioned for career success upon graduation. Monroe is among the leading higher education institutions in the country for graduating minority students.
Monroe College offers Certificate, Associate, Bachelor's, and Master's degree programs. It has campuses in the Bronx, New Rochelle, as well as in the Caribbean nation of St. Lucia, with programs offered through its Schools of Criminal Justice, Information Technology, Nursing, Education, Business & Accounting, Hospitality Management and Culinary Arts, and Allied Health, as well as through its liberal arts and continuing education programs, and its King Graduate School. For more information and admissions criteria, please visit http://www.monroecollege.edu.