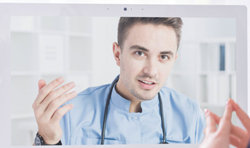 Skip the line, visit a doctor online doctorconsultationonline.com !
New York City, NY (PRWEB) March 04, 2017
Faced with the potential repeal of the Affordable Care Act, millions of Americans are nervous about the future of healthcare in the U.S. and whether they will be able to attend to their medical needs. While this is true for those in good general health, the fear is even more real for those living with a chronic illness.
A chronic illness is defined as a disease or syndrome that will last three months or longer and cannot be prevented through the administration of vaccines. Some of the most common chronic diseases in the U.S. include: diabetes, heart disease, arthritis, cystic fibrosis and Crohn's disease. Chronic illnesses have no cure and symptoms do not disappear on their own.
Many chronic illness patients are able to control their symptoms with a variety of medical treatments. Traditionally, this requires regular visits to in-office physicians, specialists, pain relief clinics, surgical centers, hospitals and other medical sites. However, frequent traveling is difficult for a majority of chronic illness sufferers due to a variety of factors, including: pain, limited mobility, fatigue, strict medication schedules and transportation challenges.
Doctor Consultation Online™ now steps in where traditional medicine is lacking. All chronic illnesses must be initially diagnosed and periodically monitored by an in-person physician. All follow-up visits in between those appointments can now be achieved using the innovative telemedicine services offered by Doctor Consultation Online™ for a monthly fee that is lower than most insurance in-office visit co-pays. With a high-speed internet connection and web camera, chronically ill patients can now chat with a doctor online to manage their conditions in their own homes, avoiding unnecessary and costly travel.
For patients living with a chronic illness day in and day out, Doctor Consultation Online's™ groundbreaking (and affordable) alternative to stressful, tiring and potentially expensive doctors' visits has revolutionized their access to adequate care. Chronically ill patients who have already started using Doctor Consultation Online's™ telemedicine service report having a dramatically improved quality of life along with a more positive outlook toward the future of healthcare in the United States.
About: Doctor Consultation Online™ is a telemedicine service that gives patients the ability to receive treatment without traveling to their doctor's office. Patients can chat with a doctor online any time of day or night to treat conditions that require ongoing treatment as well as minor, self-limiting illnesses and minor injuries for an affordable monthly fee.