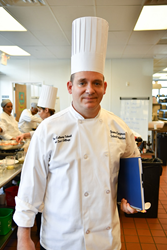 "The diversity of ages and backgrounds enriches the classroom experience and provides the 'spice of life' that translates into a great experience—and turns a good dish into a great one," Chef James Cwynar
Paterson, NJ (PRWEB) March 02, 2017
Eva's Village announces the appointment of Chef James Cwynar as Director of The Culinary School at Eva's Village. Assuming his new post in December, 2016, Chef James oversees the school's curriculum, recruitment, retention and job placement. The private vocational school opened in 2014, and is certified by New Jersey's Departments of Education and Labor and Workforce Development. Open to the community, the school's six-month curriculum provides culinary training and job placement for adults interested in a culinary career. The school complements the food, sheltering, recovery support, health care and workforce development services offered at Eva's Village, which help individuals find pathways to self-sufficiency.
Since he joined The Culinary School's staff in 2015, Chef James has approached his teaching role by fostering a classroom environment built on a foundation of respect, hard work, and continuous encouragement. "When I see the students and their families at graduation, I have the privilege of sharing in their joy because I know how hard they've worked. I know the perseverance it took for each student to reach this milestone in their lives, and we at Eva's are so fortunate to be a small part of their future success," he continued. In his previous role as Chef Instructor/Catering Manager, Chef James worked closely with the students, offering extra help and working with them to master the techniques long after the school day ended. "His 'can do' attitude is always prefaced by the word 'Outstanding,'" noted Donna Marie Fico, Director of Community Initiatives for Eva's.
"My goals are to increase average class size by 20% and maintain our 30 student capacity each semester," explained Chef James. "We offer hands-on instruction in a state-of-the-art training kitchen and we want to make the community aware of this great resource," he commented. "We want people to understand that The Culinary School at Eva's Village is a place that changes people's lives. Eva's culinary program attracts students from every walk of life—from recent high school graduates to unemployed adults seeking a job with growth potential. "The diversity of ages and backgrounds enriches the classroom experience and provides the 'spice of life' that translates into a great experience—and turns a good dish into a great one," noted Chef James. In January, 28 students, the largest cohort to date, enrolled in the school's eighth class. "Our emphasis is on perseverance and retention. We are looking forward to reaching our 100 graduate mark with this class," he said.
The school recently reached 90% job placement among all graduates, built by the success of a robust culinary curriculum, strong emphasis on job search and interview skills, as well as a strong contingent of internship and job placement partnerships in the food industry. Chef James credits the "strong mentoring program for our students, which matches them with business and food industry professionals before they begin their 128 hour internship experience" with the school's high placement rate.
Along with Chef James' passion to help the students succeed, the school's student and vocational services staff is available to assist students with their academic needs and helps them develop life skills they can apply outside of the kitchen. "Consistent with Eva's mission to provide a continuum of care to those who seek our help, our Culinary School offers more than training," explained Ms. Fico. "Our school is unique because it provides a safety net of supportive services available within Eva's campus. If a student needs help with basic living necessities or medical services, Eva's Village is here to assist them," she commented.
Chef James is as passionate about cooking and eating as he is about teaching and transforming lives. He is a dedicated foodie who loves to entertain at home, preparing grilled and smoked dishes, and using the outdoor pizza oven built into his patio. He infuses the art and science of cooking into his classroom and lab technique to help students learn to appreciate both. "Once students master the chemistry and basics of teamwork, there is ample room for personal expression and creativity," he said.
Chef James is a also veteran, serving 12 years in the USMC. His assignments abroad included four years in Paris and two years in Jerusalem. His service in the Marines expanded his palate and inspired him to pursue a culinary career. In active duty, he served as personal chef and oversaw the Marine kitchen operations. His experience as a career recruiter serves him well in his work with the Culinary School and his goal to consistently maintain maximum enrollment. After his USMC service, he trained at YTI Career Institute for Culinary Arts in Lancaster, PA. He has held positions as Executive Sous Chef at Filomena Ristorante in Georgetown, and as Executive Chef at the Library of Congress, where he managed over 100 employees and oversaw several cafes and an à la carte menu in four buildings. Prior to joining Eva's he was employed by Sodexo as a corporate chef at Benjamin Moore and Mercedes Benz.
About Eva's Village
For 35 years, Eva's Village has been delivering hot meals and supportive services to help individuals find pathways to self-sufficiency. Founded by Msgr. Vincent E. Puma, Eva's Village began as a soup kitchen in 1982, serving 30 meals a day to feed the hungry in Paterson. In response to the related issues of homelessness, poverty, addiction, health and mental illness, Eva's Kitchen soon expanded its scope, adding programs and services to address these needs. Over the years, the programs grew into Eva's Village, a non-profit, anti-poverty organization, which today is one of the most comprehensive social service agencies in New Jersey. Eva's Village carries out its mission to feed the hungry, shelter the homeless, treat the addicted, and provide medical and dental care to the poor with respect for the human dignity of each individual. Eva's 20 integrated programs help thousands of individuals rebuild their lives each year by addressing needs in the community for Food & Housing, Medical & Recovery Services, and Education & Training.