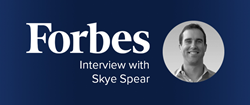 Our average merchant revenue goes up 3% when they deploy us, and that is at mature organizations. At less mature firms, or firms trying to expand into new geographies, they can see revenue go up 8% to 15%.
San Jose, CA (PRWEB) March 07, 2017
Within three years merchants will no longer be liable for credit card fraud online, said Skye Spear, vice president of partnerships at Signifyd. Already, firms like Signifyd, Forter and Riskified use fast, smart technology, like real-time machine learning, to review credit card orders coming into e-commerce operations, decide which orders are safe and guarantee those orders. If the order turns out to be fraud, the companies will reimburse the merchant. Signifyd charges for providing a guarantee range from about 50 to 100 basis points, or 1 percent of an order. In the future, Spear said, credit card companies could just tack that onto what they charge for their card, or retailers could simply contract directly with the guarantee providers.
"We're seeing tremendous penetration in SMB mostly through partners," Spear added. "We're being embedded into Magento, [a large e-commerce platform] and you will see some more announcements about Signifyd being embedded in other e-commerce platforms."
The company works through a dedicated sales team and also through e-commerce platforms to reach the large number of SMBs which are looking for an effective fraud prevention tool.
Some of the largest internet retailers are using Signifyd, he added, and more are on the way.
"We want to be the BASF of the e-payment fraud world," Spear explained, referring to the giant chemical company's slogan, "We don't make a lot of the products you buy. We make a lot of the products you buy better …" The company has partnered with American Express, Magento and, recently Salesforce.