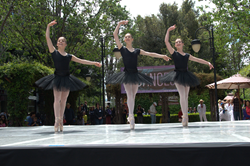 San Jose, CA (PRWEB) March 07, 2017
Sixty to seventy Bay Area dance organizations (from young children to professional companies and everything in between) present many styles of dance on Santana Row's outdoor festival stage during a free 7-hour program. The professional dance portion of the show is from 12:00 noon to 1:00pm The celebration is part of National Dance Week and showcases the diversity of the Bay Area dance community.
WHO: sjDANCEco presents
WHAT: sjDANCEco Festival @ Santana Row - Admission is FREE
WHEN: Sunday, April 23, 2017 from 10:00am to 5:00pm
WHERE: Santana Row Park, 368 Santana Row, Stevens Creek Boulevard, San Jose, CA 95128. The festival stage is located on the main street of Santana Row between Olin Avenue and Olsen Drive.
WHY: Celebrating National Dance Week. A cornerstone Bay Area Dance Week event, this free festival is also the kickoff to sjDANCEco's 15th Season.
For media inquiries, please contact Lee Kopp, at leekopp(at)att(dot)net, or by phone 408.839.2379.
Photos by Fred Corpuz, courtesy of sjDANCEco.
About sjDANCEco
sjDANCEco, a registered 501c3, is a year-round contemporary dance company based in San Jose, California that produces world premieres by its core and guest choreographers, and presents the very best of Contemporary and Classic Modern Dance and Masterpieces of the American Modern Dance Repertory. In addition to a full season of dance concerts, sjDANCEco also is a major participant each Spring in free outdoor dance presentations during National Dance Week, international dance festivals, and has a full schedule of contemporary dance classes for the advanced and professional dancer. sjDANCEco ignites the spirit of dance.
About Santana Row
Santana Row, a 647,000 square foot mixed-use development in San Jose, CA, is Silicon Valley's premier destination for shopping, dining, living and working. Santana Row features over 70 shops, 20 restaurants, a boutique hotel and movie theatre. In addition to the dynamic retail & restaurant collection, Santana Row offers 615 luxury rental homes, 219 privately owned condos and 65,000 square feet of Class A office space. Santana Row is a property of Federal Realty (NYSE:FRT), headquartered in Rockville, Maryland. For more information, please visit http://www.santanarow.com.
About Federal Realty
Federal Realty is a recognized leader in the ownership, operation and redevelopment of high-quality retail based properties located primarily in major coastal markets from Washington, D.C. to Boston as well as San Francisco and Los Angeles. Founded in 1962, our mission is to deliver long term, sustainable growth through investing in densely populated, affluent communities where retail demand exceeds supply. Our expertise includes creating urban, mixed-use neighborhoods like Santana Row in San Jose, California, Pike & Rose in North Bethesda, Maryland and Assembly Row in Somerville, Massachusetts. These unique and vibrant environments that combine shopping, dining, living and working provide a destination experience valued by their respective communities. Federal Realty's 96 properties include over 2,800 tenants, in approximately 22 million square feet, and over 1,800 residential units.
Federal Realty has paid quarterly dividends to its shareholders continuously since its founding in 1962, and has increased its dividend rate for 49 consecutive years, the longest record in the REIT industry. Federal Realty shares are traded on the NYSE under the symbol FRT. For additional information about Federal Realty and its properties, visit http://www.FederalRealty.com.