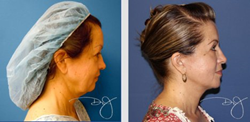 Using fat obtained from elsewhere in the body via liposuction offers a number of advantages over older [buttock augmentation] procedures which employed synthetic implants.
Beverly Hills, CA (PRWEB) March 08, 2017
A March 1 article on ScienceBlog discusses new information from the American Society of Plastic Surgeons (ASPS) detailing a number of ongoing trends, including an increase in procedures utilizing fat transfer as well as facial rejuvenation procedures. Beverly Hills based plastic surgeon, Payam Jarrah-Nejad, M.D., F.I.C.S., F.A.C.S., known more familiarly to colleagues and patients as Dr. J, says that the report jibes with what he's seeing in his own offices, especially regarding the increasing popularity of such fat-transfer based procedures as the Brazilian butt lift as well as with the growing number of facial rejuvenation techniques.
Dr. J notes that, in the case of buttock augmentation, the reasons for the increasing popularity of procedures taking advantage of fat transfer techniques are easy to see. He notes that using fat obtained from elsewhere in the body via liposuction offers a number of advantages over older procedures which employed synthetic implants. Most importantly, he notes that using the patient's own fat significantly reduces the chances of complications related to an infection. He also notes that the technique allows the plastic surgeon to sculpt the body to create a shapelier posterior that truly flatters the patient's overall appearance, while also producing results that patients agree look and feel extremely natural. Dr. J adds that, since removing unwanted fat through liposuction is a necessary part of the buttock lift, patients often see the procedure as something of a "twofer" since the appearance of more than one part of the body may be improved.
As for other procedures, Dr. J says that the popularity of facial rejuvenation continues to grow. He says that one reason for the change is that procedures have never been more safe and effective. This is not surprising, says Dr. J, because the facelift, medically known as rhytidectomy, is among the most tried and true of all plastic surgeries, and actually dates back to the earliest years of the 20th century. The plastic surgeon adds that, while rhytidectomy remains the gold standard in terms of long-lasting results, today's patients are also increasingly taking advantage of Botox and other injectable-based facial rejuvenation options that can, indeed, make patients appear significantly younger and more rested.
Dr. J notes that a wide variety of procedures are increasing in popularity, largely because there are now more viable options available than ever. He notes, however, that patients should be selective about their doctors and insist on working with board certified plastic surgeons. Readers interested in learning more about plastic surgery are invited to contact Dr. J's office at 310-683-0200. They can also learn in more details about his abilities and qualifications as a double board certified plastic surgeon via his web site.