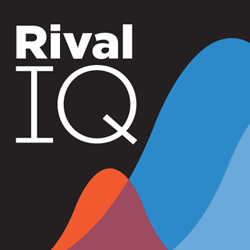 "Rival IQ's competitive focus allows us to measure ourselves against the competition giving us the ability to up our game." -Eric Perez, CEO of Toronto Wolfpack
Seattle, Washington (PRWEB) March 03, 2017
Rival IQ the leader in social marketing analytics and insights, today announced that the Toronto Wolfpack, Canada's first professional Rugby League team, is using Rival IQ to overcome the unique marketing challenges of the world's first transatlantic professional sports team. The Wolfpack, an English Football Rugby League (RFL) team, will use Rival IQ to measure their social media performance against other League 1 teams, local Toronto sporting teams, football clubs in elite tiers, and the Rugby Football Union (RFU) divisions in an effort to capture multiple fan bases.
"The Toronto Wolfpack is dedicated to progressing through the ranks of the English Football Rugby League (RFL) from a League 1 team to the Super League over the course of the next five years." said Eric Perez, CEO of Toronto Wolfpack. "In order to get there, we need to understand the content and social activity that our local fans and high-level rugby fans find engaging. Rival IQ's competitive focus allows us to measure ourselves to the competition giving us the ability to up our game."
Social media has become a core tool for the sports industry in branding, generating awareness, and educating fans. It's a powerful channel that drives news, conversation and the way fans interact with their favorite teams, players, and fellow fans. According to Nielsen, "Sports events comprised 12 of the Top 20 Most-Tweeted-About TV broadcasts during the year. This high level of engagement around sports events is significant as teams, programmers and advertisers look to reach and amplify messaging to audiences across screens."
"We're delighted to help the Toronto Wolfpack grow and optimize their social marketing across globally distinct markets." said John Gallagher, vice president of marketing at Rival IQ. "Social media is a powerful distribution channel that shapes the way sports fans interact with their teams, players and other fans. We expect the Wolfpack to experience the same success as our other professional sports customers as they turn social media into an indispensable source for receiving team news and engaging in conversation."
Coming off a victory over Siddal in the third round of the Challenge Cup on February 25, the Toronto Wolfpack will kick off the League 1 season this Saturday, March 4th at 3:00 PM GMT at the New River Stadium against London Skolars.
Rival IQ delivers digital marketing analytics with a competitive and comparative context. Their goal is to equip marketers with a toolkit to set a winning social media strategy that increases revenue and achieves their marketing goals. By uncovering new opportunities, identifying trends, and tracking results across all the key social channels and on the web, Rival IQ allows marketers to have informative data to make better business decisions. Insights revealed in these reports help marketers set tangible benchmarks, make data-driven marketing decisions, improve results and better understand competitors.
Contact:
Danica Benson
Rival IQ media(at)rivaliq(dot)com
About Rival IQ
Rival IQ helps digital marketers make more informed content decisions, better understand their audiences and improve their social media engagement using Rival IQ's clear analytics and competitive intelligence insights. For more information, visit http://www.rivaliq.com, call +1.206.395.8572, or follow us on Twitter, LinkedIn, and Facebook.
About Toronto Wolfpack
The Toronto Wolfpack is a professional Rugby League team dedicated to progressing through the English Rugby Football League's (RFL) ranks, from League 1 to the Super League. We are Canada's first professional Rugby team, and the world's first transatlantic professional sports team.
Learn more at http://www.torontowolfpack.com
Facebook: http://www.facebook.com/TorontoWolfpack
Twitter: http://www.twitter.com/TOwolfpack
Instagram: http://www.instagram.com/torontowolfpackofficial