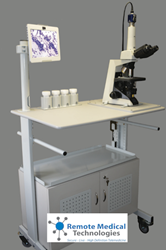 Melville, New York (PRWEB) March 03, 2017
Remote Medical Technologies (RMT) will be returning to the United States and Canadian Academy of Pathology (USCAP) 2017 Annual Meeting from March 6th through March 8th. This year, USCAP will be held at the Henry B. Gonzalez Convention Center in San Antonio, Texas. RMT will be demonstrating their latest iMedHD2™ Telepathology Solutions. RMT will be uncovering the most versatile portable aspects of their proven Mobile Cart-Based Telecytology offering for rapid on-site evaluations, their Remote Robotic Control Microscope and Live Grossing Systems.
iMedHD2™ Telepathology Solutions provide doctors and assistants with the ability to instantly share highly secure, high definition images for immediate collaboration and decision making. There is absolutely no pre-processing or scanning of slides before transmitting the image. All RMT products are designed to expand and protect the past and current investments made by the medical facility because iMedHD2™ Telepathology Solutions easily integrates with present equipment. This solution also provides digital accessibility to those distant pathologists or practitioners who want to use their own mobile devices, smartphones, and tablets (i.e. iPhone™, iPad™, and Android™ devices) to participate.
This 106th Annual Event is known to be one of the largest meetings of pathologists worldwide. The Academy consistently improves content, diversity, and delivery of educational research studies. RMT Founder and CEO, Don Marchon, explains, "RMT technology enhances clinician real-time workflow productivity unlike any other telepathology product on the market." The RMT iMedHD2™ Mobile Cart-Based Telepathology Solution instantly shares secure, high definition images from one remote location to another. This highly secure and compact mobile workstation contains all components of RMT's technology mounted directly onto a customizable easy-to-roll cart. Live, dynamic HD video streams to remote pathologists from any room into which the cart has been re-located. Now, RMT has taken this a step further by providing their Remote Robotic Control Microscope with the cart, therefore enhancing the remote aspects of their mobility. Technicians and assistants need not manipulate the image for the remote pathologist with the Remote Control functionality. Pathologists can quickly change objectives and scan the live slide truly in real-time.
If you plan on being in San Antonio, be sure to visit RMT at the Henry B. Gonzalez Convention Center booth #120 and receive a hands-on demonstration of the iMedHD2™ systems.
Questions? Want to learn more? Call toll-free at 855-867-3040, email RMT at info(at)rmtcentral(dot)com or contact Remote Medical Technologies online at http://www.rmtcentral.com.
About Remote Medical Technologies, LLC.
Remote Medical Technologies is the creator of an innovative patented technology for delivery of Internet-based premium telemedicine services. The company is a Limited Liability Corporation headquartered in New York. RMT provides a best-in-class web-based video, voice, collaboration and administration platform. With simply the use of a browser the solution is easy to deploy, operate and manage. This customizable and extendable multimedia services platform is a modular, non-fragmented approach to extending a healthcare organization's communications infrastructure. Be it across the street or around the globe, RMT drives telemedicine concepts and provides solutions that save lives.