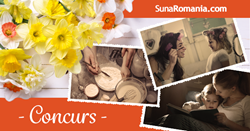 Atlanta, Georgia (PRWEB) March 03, 2017
In Romania, March is the month traditionally dedicated to women. On the 1st of March, SunaRomania.com is offering "martisoare," a token of appreciation, announcing the arrival of spring. On March 8, Mother's Day is celebrated, spreading emotional greetings all around. To support these great traditions, SunaRomania.com offers Romanian expats two great gifts: $3 bonus for Voice Credit orders and a Facebook contest giving them the opportunity to win a free Voice Credit.
The promotion offering a $3 bonus for Voice Credit orders above $20 is valid starting March 6 until March 8. To get the bonus, customers must use the coupon code BUCHET when placing the order.
The Facebook contest lasts longer, starting on March 3 and staying open until March 8. All customers have to do is share their most precious memory with their mom. It might be from their childhood or more recent, from back home or a great moment they shared even after leaving Romania. The winner will be picked randomly and will be awarded $10 free Voice Credit to make long international calls to Romania.
Besides calling, Romanian expats may also send a useful gift to their mothers back home in Romania: a mobile recharge. The international mobile recharge service SunaRomania.com offers allow customers to top up prepaid mobiles in Romania. Orange, Vodafone, and Telekom operators are available.
Customers can also use the Virtual Number service, a monthly subscription allowing all Romanian expats living abroad to feel closer to home and receive calls from Romania on their own phone for only $9.99/month.
So, SunaRomania.com offers its customers various services they can use to stay connected to all the great people they left back in Romania and whom they still miss: "I found out about SunaRomania.com from a friend about 7-8 years ago and never used a single calling card to call home since! I rarely have any dropped calls or problems with the connection. Great experience all around. Plus, the fact that my parents can call me anytime on my cell and they pay only a local rate gives me and them great peace of mind that they can always reach me quickly in case of an emergency. [...]" - SunaRomania.com customer, on Trustpilot.com.
About SunaRomania.com
SunaRomania.com is an interactive website designed by KeepCalling, a global telecommunications company registered in 2002 in the USA. Presently, KeepCalling provides its services to hundreds of thousands of consumers and businesses, with a focus on customer satisfaction. KeepCalling has been listed by Inc 5000 as one of the fastest growing companies in the USA for 5 consecutive years.