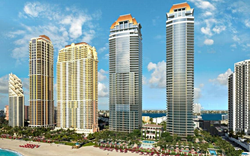 Ultra-wealthy still interested in buying real estate despite slowdown
Sunny Isles Beach FL (PRWEB) March 06, 2017
Located in the southeastern of the state of Florida, there are a lot more than wonderful things to do, things to see and places to go in Miami City. Apart from the area being famous for its famous white sand beaches such as the South Beach, wonderful nightlife, glamorous places to wine and dine, not forgetting the sea food cafes and cigar shops, it is a wonderful place to visit and definitely settle in. This being the case, the real estate market in Sunny Isles Miami Real Estate and all Miami has also revolutionized a great deal, the major reason why property buyers, sellers, investors and real estate agents alike are always looking for Miami New Condo Developments and upcoming property establishments such as condos, luxury mansions and apartments. Well, there are numerous reasons why you might also be interested in keeping at par with the real estate market trends. Here are the many reasons however, that would make one want to stay regularly updated with the New Development Projects in Miami at any given time.
Buy A Property in the Area
Searching at various online property listing sites with those from Miami included, it's easy to find plenty of condos and other property for sale, some of them being under development or in the preconstruction stage. The most prominent luxury developments in Sunny Isles Beach are Estates At Acqualina, Acqualina Mansions, Acqualina Residences Miami. And because nothing feels better than owning a piece of shelter in the sandy beaches, it's great to look up early and stay with the flow in order to get the ideal mansion or condo for you. One of the most interesting things this mode of acquiring property in Miami is that it allows to get more flexible payments, and more so, it will be easier to choose the best unit option if proceed with the booking early enough. Most of these preconstruction firms require a down payment to place at the reservation, followed by a favorable agreed payment mode and terms. By the time what are now termed as Miami New Development Projects are finished, the payment most probably be completed as well, or just 50% at the closing is left to pay. This is also a great budget friendlier way of acquiring property in the sandy beaches. Great projects with flexible payments are Turnberry Ocean Club, Armani Residences Miami, Jade Signature, Ritz Carlton Sunny Isles, Porsche Design Tower, Muse Residences, Regalia Sunny Isles For Sale.
To Prospect When to Sell Property
Knowing about Miami New Development Projects can provide insights on when exactly to list the property for sale in another area, say if one has always wanted to settle or do business around the sandy beaches. When such property is set for offer on a particular date, this would mean that the supply would be higher there, which would perhaps affect the demand in your area. It can therefore allows to make a fast move in avoidance of getting caught up in the paradigm shift.
Realtors
Real estate agents are a profitable, yet highly competitive business. They are the major players of the industry, alongside buyers, sellers, contactors, and property developers. As an aggressive real estate agent in Miami, Florida, being up to date with all new projects information is a must. It will help to be on a cutting edge when communicating the selling or buying opportunities to the prospective clients.
Being An Investor in the Real Estate and Other Markets
As an aggressive real estate investor, knowing about upcoming and Miami New Development Projects can be a great way of planning your future investments. One of the booming area in Miami for ultra-luxury homes and condos is Bal Harbour Real Estate and projects such as Oceana Bal Harbour, St Regis Bal Harbour Condos For Sale, Fendi Chateau Residences Surfside, Surf Club Four Seasons Surfside For Sale, Eighty Seven Park Miami Beach, Latelier Miami Beach. Apart from having the opportunity to play cards in advance, having an idea of what preconstruction property will look like once finished can give great insights on what other baskets one can place eggs in strategically. And let's face, the real estate industry is a competitive one, hence going through listings from resourceful sites helps one to make better decisions on how to spend money to avoid getting caught on the loop by changes in the real estate market trends. Not only these, knowing about new development projects can definitely give more business ideas, since it will be easier to get to know the kind of people one should expect to settle in s such an area and what they are most likely to be in need of.
To Predict the Market Trends
In all the above, getting to know about Miami New Development Projects can help to predict trends to expect in the real estate market in Miami or surrounding areas. With such insights, buyers and sellers can move faster with their real estate decisions.
For more information on Miami Beach Real Estate, South Beach Real Estate, Miami Beach Homes For Sale, Aventura Real Estate, Golden Beach FL Homes For Sale, Acqualina Miami, Estates At Acqualina Sunny Isles, Sunny Isles Real Estate, Missoni Baia Miami and Bal Harbour markets please contact us at 305.310.9305.