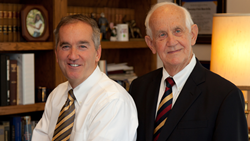 Representing the injured victims in our society has been my honor and privilege.
Indianapolis, Indiana (PRWEB) March 03, 2017
US News & World Report and Best Lawyers® have ranked Ward & Ward Law Firm, a personal injury and medical malpractice law firm in the Indianapolis region, for the prestigious 2017 list of Best Law Firms in the category of plaintiffs' personal injury litigation. There are no fees associated with the submission or ranking processes. Firms are chosen for ranking in 'Best Law Firms' online and print publications, in part, by information provided on the Law Firm and the Law Firm Leaders Surveys. Ranked firms are recognized for professional excellence and their consistent impressive ratings by practicing peer attorneys and clients that live and work within the community.
To be eligible for ranking, law firms must have at least one lawyer named in the 22nd Edition of The Best Lawyers in America® for their practicing category and office location. The partners of the Indiana tier 2 plaintiffs' personal injury law firm, Don and Charlie Ward, are among twenty-nine Indiana plaintiffs' personal injury litigation attorneys listed in The Best Lawyers in America®.
Together, the father and son trial attorneys have more than 85 years of experience representing individuals with catastrophic injuries from semi tractor-trailer accidents, motorcycle accidents and medical malpractice wrongful death claims. Two thousand fifteen Legendary Lawyer and former President of the Association of Trial Lawyers of America, Don Ward, has dedicated his career of sixty-two years promoting and advancing the concept of equal access to the courts. When interviewed Ward said, "Representing the injured victims in our society has been my honor and privilege. Their [my clients'] problems are my problems to solve."
Best Law Firms is a trusted and powerful resource for attorneys seeking co-representation outside of their jurisdiction and for consumers in need of trusted legal representation. Since 1933, the Washington D.C. based publisher, U.S. News & World Report, has served up news, information and rankings that cover a wide range of categories for practical consumer applications. Their "Best" series of consumer guides rank universities, hospitals, mutual funds and more, including the Best Law Firms. The Best Law Firms publications are distributed in print to more than 65,000 C-level executives and in-house counsel. More than 60,000 lawyers in private practice worldwide view the list in digital format.